Greg is one of McQueens Dairies customer service advisers. You may have already spoken with him if you have used our chat service on the website. He is a hardworking and very knowledgeable member of the team.
Tell us a little bit about yourself and your role at McQueens. 
My name is Greg I am 23 from Glasgow. I'm a really outgoing person that loves to play sport in my spare time and I play for my local football team. My role at McQueens Dairies is a customer service advisor and I am a part of the team that deals with online chats through the website, Twitter, and Facebook Messenger. We deal with all queries such as order queries, order amendments, payments and holiday bookings.
How long have you been at McQueens?
This November I will have been working with McQueens for a year.
What do you like most about working at McQueens Dairies?
Firstly, it would have to be the staff, every day everyone is in such high spirits and they really lift you if you are having a bad day. You can go to anyone with an issue and they will be there for you. Everyone is super friendly and every day is a great laugh which I think you really need in a workplace. Especially the supervisor who had everyone in stitches with her jokes and antics where we were in the office, and not working from home. Secondly is knowing that we are providing a great service across the country, knowing that each morning we are making people's day that bit easier by leaving the fresh milk on their doorstep and giving each household one less thing to worry about.
What would you say to anyone thinking about joining the McQueens team?
100% go for it, it's the best decision I have made applying for the role, from the moment you come in you are made to feel welcome and a part of the team.
What is your favourite product from McQueens?
It is a tough one between the Apple Juice and the Orange juice, but I would have to say…. Orange juice
Have you got a funny story or memory from your time working here?
I don't have any that stand out, every day here is a great laugh and I really enjoy working for McQueens Dairies.
McQueens Dairies
Sign up to a milk delivery today and have fresh milk, juice and eggs right on your doorstep before 7am.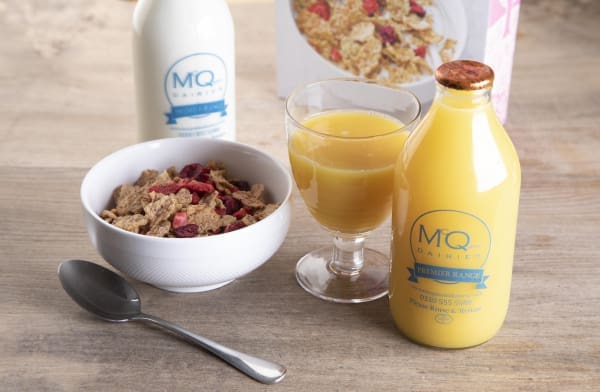 Linzi is a friendly and knowledgeable customer service adviser at McQueens Dairies. She is an invaluable member of our team and she always goes the extra mile for her customers.
Tell us a little bit about yourself and your role at McQueens Dairies.
My Name is Linzi Ward. I am 34 years old and a Customer Service Adviser for McQueens Dairies.
How long have you been at McQueens?
I have been at McQueens Dairies now for just over a year. This has flown by considering I have not been in a working environment for 9 years, due to having children and being a housewife, but now they are school age I have loved being back in work.
What do you like most about working at McQueens Dairies?
The best thing about working for McQueens Dairies is that it is a family run business and from the moment you start you are made to feel like a member of the family. Everyone is so welcoming from your team members to management.
What would you say to anyone thinking about joining the McQueens team?
If someone wanted to join McQueens Dairies I would tell them to go for it like I did. My Husband has been with McQueens for 3 years now as a milkman and he loves the company. So when I was ready to go back to work, he knew I would be okay and encouraged me to work for McQueens, knowing what a fantastic company it is. I would also tell anyone especially in these hard time, we have not had to worry about  job security and always have been supported by management.
What is your favourite product from McQueens?
My favourite product would have to be the fresh milk. Until I was introduced to McQueens milk, I did not know there was a difference between fresh dairy milk and supermarket milk, boy was I wrong. It is so much nicer and I would never go back to supermarket milk now.
Have you got a funny story or memory from your time working here?
The best memory from working at McQueens Dairies I think will stay with me for the rest of my life. When we were in the height of lockdown and working from home, we were able to get our phone services back up and running. I had one call from a lovely lady and she wanted to add some milk to her current order. After I had dealt with this ladies query, she began to tell me how lovely it was talking to someone as it had been 3 weeks since she had seen or spoken to anyone. It broke my heart so I stayed on the phone for a few more minutes to cheer this lady up. After this, it made me aware that lots of people were struggling and our company was not only helping by delivering to them, but also by a few minutes chat on the phone was making a massive improvement to someone's day.
McQueens Dairies
Sign up to a milk delivery today and have fresh milk, juice and eggs delivered straight to your doorstep before 7am.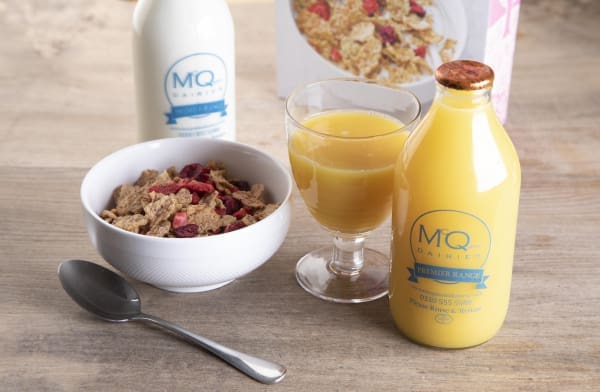 McQueens Dairies are proud to announce the opening of our new depot in Stockton-On-Tees, as part of plans to expand into the region to meet the rising demand for doorstep milk deliveries.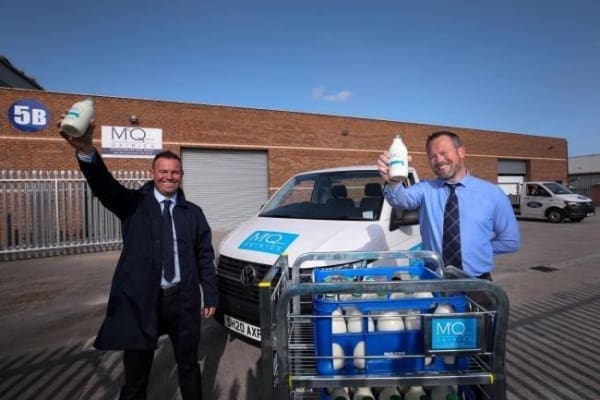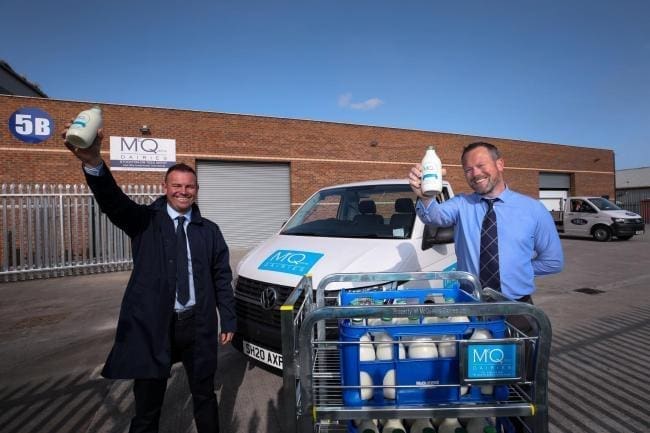 Stockton-On-Tees
This exciting new expansion comes as the demand for doorstep deliveries has increased, especially in recent months. With more people looking to more sustainable swaps to their daily life, a surge in milk deliveries has had. This will be the fifth depot we have in England, the first in the North East, with 4 other depots in Scotland.
This new depot has allowed us to create 13 new jobs so far and will enable us to deliver to even more doorsteps throughout Stockton and surrounding areas.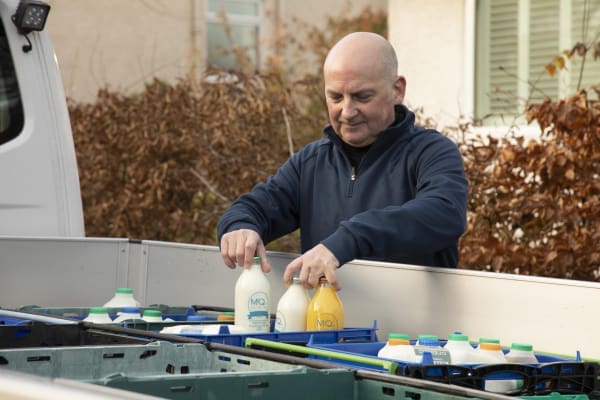 McQueens Dairies Depots
Ruairidh McQueens, Sales Director of McQueens Dairies said "Our new Stockton-on-Tees distribution centre is our fifth in the north of England and will join our busy depots in Mansfield, Huddersfield, Warrington and Preston.
"Demand for doorstep deliveries has been increasing for some time now and since the coronavirus pandemic hit the country we have seen demand increase further as customers looked for safer and reliable food delivery services and our decision to open this new depot reflects that demand."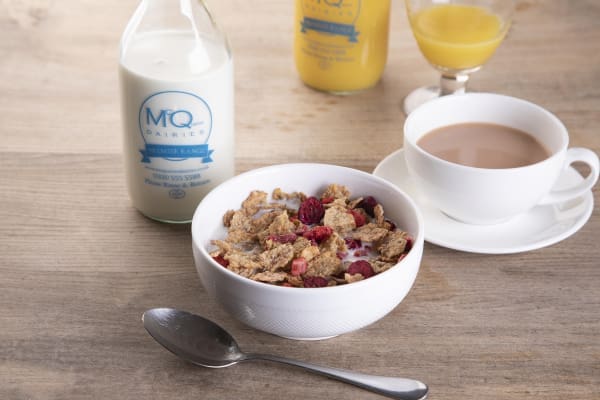 Chris Norton, depot manager for the Stockton facility, said: "It is exciting for all of the new depot and delivery staff who are delivering fresh milk daily to our customers' doorsteps, and for McQueens Dairies to become part of the Stockton-on-Tees and County Durham community."
Mr McQueen added: "Our customers are at the heart of our business and are who make the business the success it is. We still deliver to people who have been customers since we started 25 years ago are committed to giving every customer, old and new, the very best service and product in the market."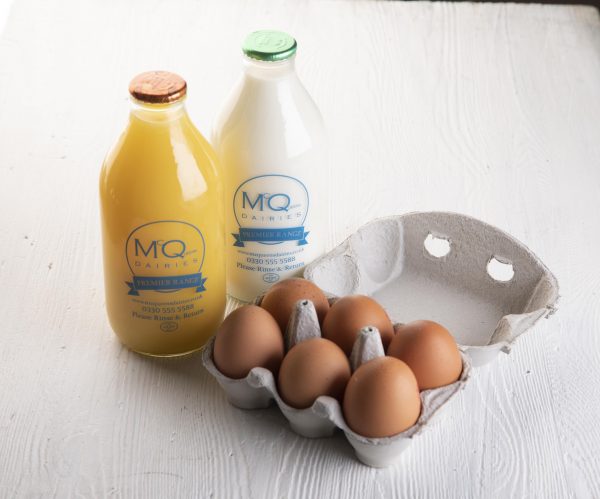 McQueens Dairies
McQueens Dairies was founded in 1995 by company chairman Mick McQueen and wife Meg, and now operates distribution depots in Scotland and the North, employing hundreds of staff. The couple's five children now also hold senior positions within the business.
We  deliver milk, juice and eggs straight to your doorstep before 7am. Place your order for a doorstep delivery today.
World School Milk Day is celebrated all over the world on the last Wednesday of September every year to celebrate the benefits and success of school milk programmes. The first World School Milk Day was celebrated in September 2000 and has since become an annual event which people can join in with.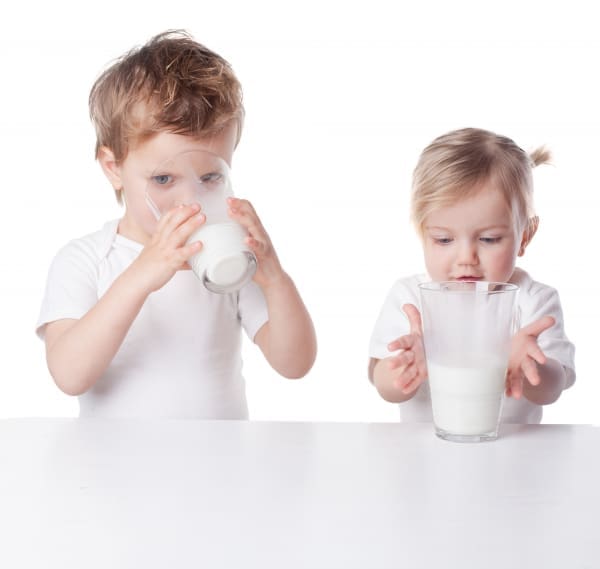 The History
In the UK, the history of the school milk scheme goes back over 100 years to the Provision of Meals Act which was first introduced in 1906. This recognised that the provision of school food would allow undernourished children to benefit more from their education. Another factor was that milk was a drink that could be provided to children to prevent poor nutrition in the future and help with their development.
Benefits of drinking milk for children
Milk is one of the best sources of calcium that children can consume.
It helps to keep children's bones strong and healthy. .
Calcium is also very important for children's dental health.
Calcium helps release hormones and other chemicals from children's bodies.
Healthy Teeth
Milk is rich in calcium and phosphorus, which are crucial to tooth development and overall health of the teeth.
One of the most vital proteins found in milk is called casein. It helps to form a thin film on the tooth's enamel surface and helps to prevent the loss of calcium and phosphate, keeping the teeth strong and healthy.
It is especially helpful when children's teeth may get exposed to the acids present in the mouth, especially when eating sugary snacks.
Many dentists will recommend your kid should drink only milk in between meals, in addition to water. It is because drinking milk does not cause any decay in the teeth.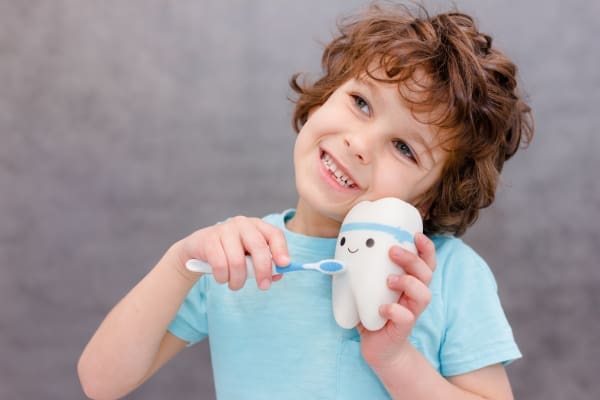 Hydration
It is recommended that children should drink lots of fluids throughout the day to stay hydrated. Drinking milk is the best way to ensure children stay hydrated.
It is especially important for your child to rehydrate after a strenuous workout or any physical activity as drinking milk helps children's bodies to recover after exercise.
Milk is a rich source of calcium, which is good for developing strong bone structure in children.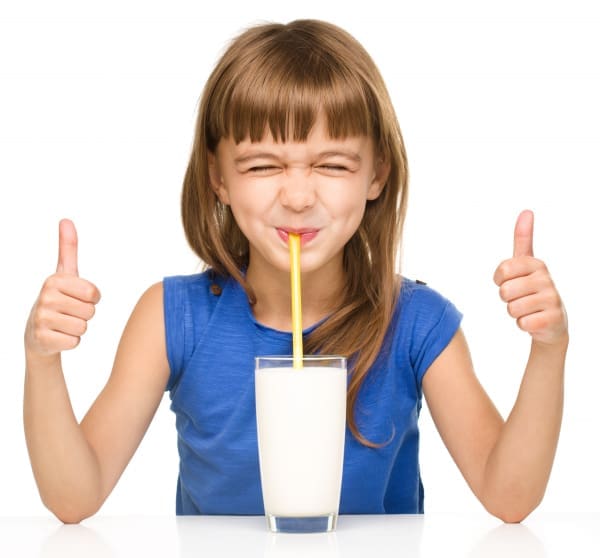 How much milk should my child be drinking?
The amount (or glasses) of milk children should drink daily really depends on various factors like age and height. Here is a quick guide to let you know how much your child should be drinking.
Ages 1 to 2: As your child reaches the age a year old, you can eventually introduce cow's milk in their diet. Kids of the age group 1 and 2 years need a high-fat diet for healthy brain development. At this age, you can make your kid drink around 4 cups of milk daily and it suggested that whole milk is best.
Ages 2 to 8: Children of the age group 2 – 3 years should drink at least 2 cups of milk each day. Children of the age group 4 – 8 years can drink  2.5 cups of milk or start to have other dairy substitutes.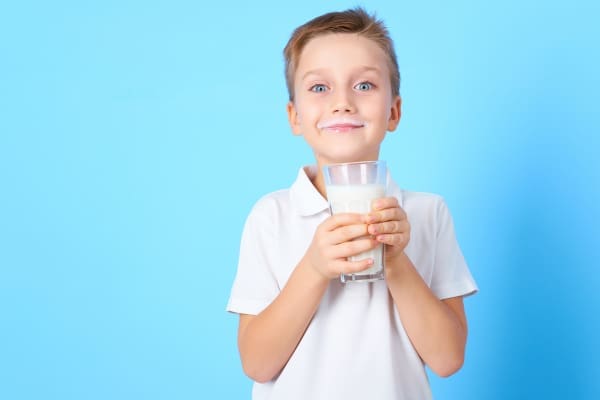 McQueens Dairies & The Nursery Milk
McQueens Dairies offer free milk as part of The Nursery Milk Scheme which entitles children under 5 years who attend a childminder or a nursery to receive free milk (1/3 pint (189ml) every day. This is delivered straight to your doorstep and you will have on going support on how to claim via our experience nursery manager, Lynne.
To find our more information or to apply: Click here. 
We love a National Day!  On September 3rd each year we celebrate National Welsh Rarebit day.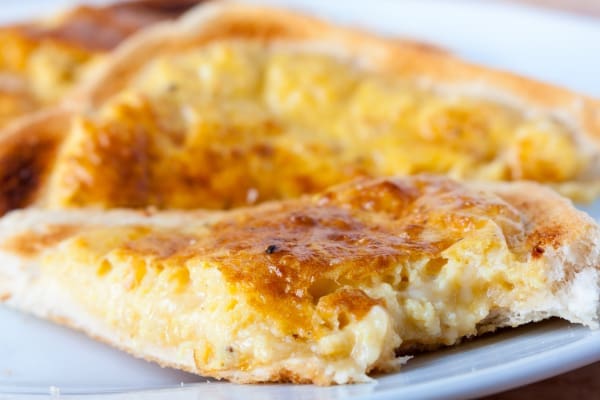 This day is about celebrating the go to comfort food of a melt in your mouth mixture of cheese, eggs, mustard, beer (yes, there really is beer in it!) and Worcestershire sauce on toasted bread.
What is Welsh Rarebit?
Traditionally, it is known as grilled cheese which has been mixed with lightly beaten eggs, some Worcestershire sauce, beer and mustard to create the perfect cheesy topping for toasted bread.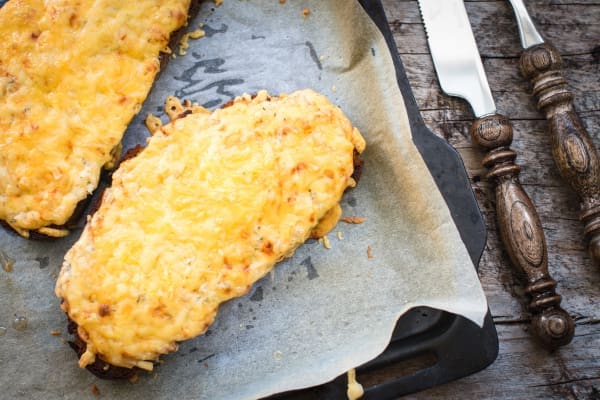 The beer is optional (but in our opinion it really helps with the flavour) or you can substitute in some milk if serving to the little ones.
Why is it called Welsh Rarebit?
The original name for this dish was, in fact, "Welsh rabbit," originated back in the 17th century though it has nothing to do with bunnies. In an attempt to reduce confusion, the name was altered to "rarebit," but it can still trip up those around the world unfamiliar with the Welsh dish.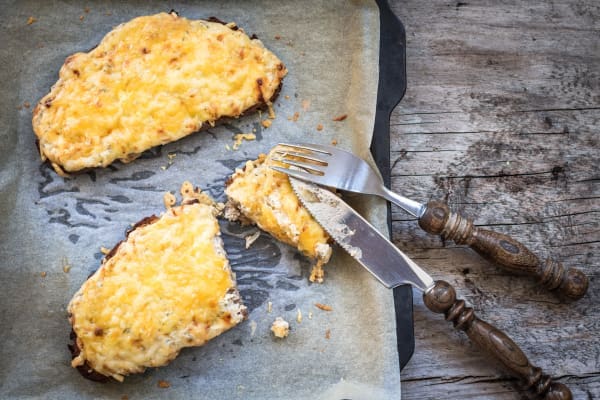 What is the difference between cheese on toast and Welsh rarebit?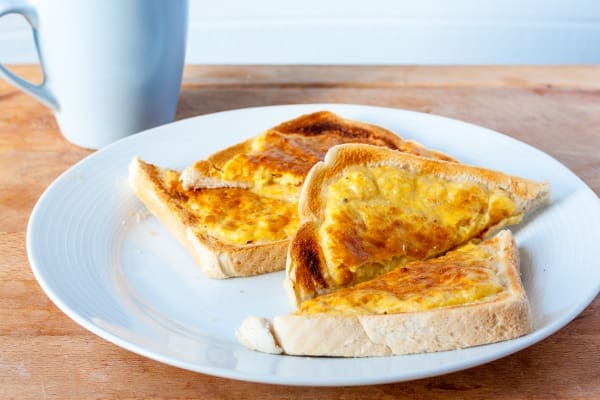 Cheese on toast is simply, slices of cheese on toast, what more can we say about the perfect snack? Where this dish differs, is that it is a fluffy cheese based mixture with different ingredients and sauces and then added as a topping to toasted bread before going under the grill until fully melted and ready to be enjoyed. We advise making a good few slices of this as 2 is never enough.
Here is our go to Welsh Rarebit recipe below: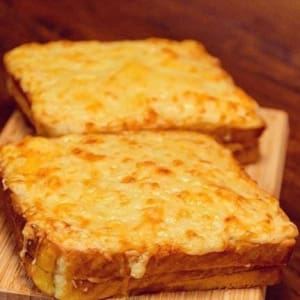 Print
Welsh Rarebit Recipe
This famous Welsh dish is a kind of 'posh cheese on toast' with a Welsh twist. Here is our recipe for Welsh rarebit.
Materials
350

g

Cheddar Cheese

1

Egg

2

tbsp

Beer

Preferably stout or substitute with milk

1

tsp

Worcestershire Sauce

1

tsp

English Mustard

1

Pinch

Cayene Pepper

12

Slices

White Bread
Instructions
Set aside 1 heaped tablespoon of grated cheese

Mix the rest with the egg, beer (preferably stout) or milk, Worcestershire sauce, mustard and cayenne.

Preheat the grill to high and toast the bread on both sides. Spread the cheese mixture on top and then sprinkle on the reserved cheese.

Grill until the cheese is melted and starting to turn golden brown. Serve immediately.
Why not try making your own Welsh rarebit with McQueens Dairies Delicious Free Range Eggs? Our free range eggs can be added to your weekly deliveries in our online shop  
Remember to tag us in your Welsh rarebit creations on National Welsh Rarebit Day on Facebook or on Instagram using the hashtag #mcqueensdairies and we will re-share your delicious creations.