Milk Delivery Service
October 24, 2019
Today, our lives are so busy that we often forget the most important things in life. Some milk to go with that all important first cup of tea in the morning! How much better would life be if you never had to worry about buying milk in the supermarket again?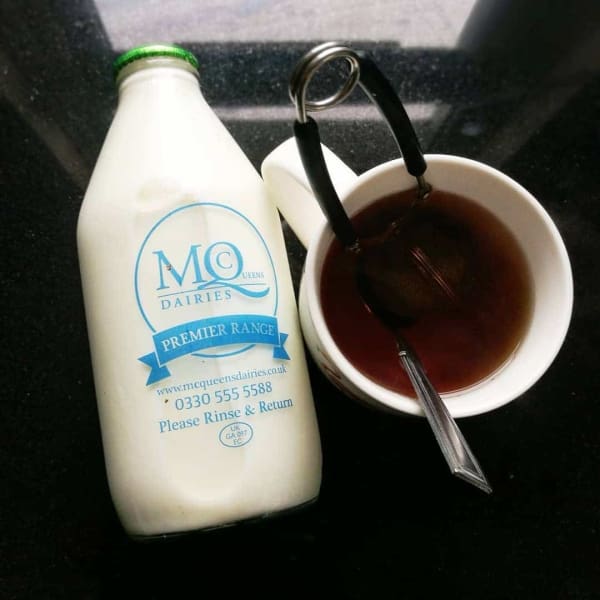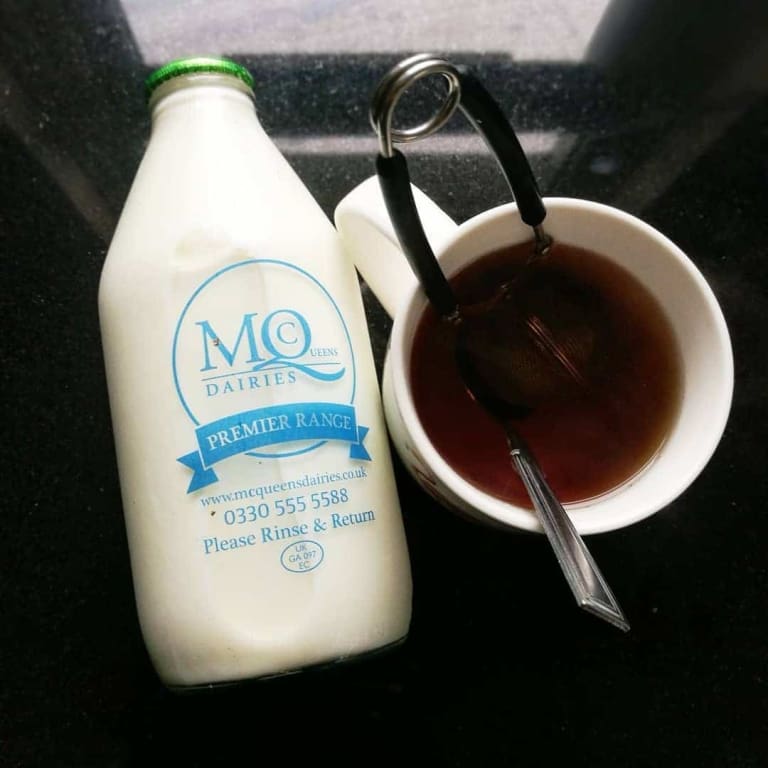 Milk Delivery
When milk delivery was first introduced in the UK, it was a big hit with those who had to juggle busy lives and were unable to get to the shops regularly. The milkman was great as every few days, he would make his way up the path to deliver fresh milk and other produce, but this soon declined as supermarkets started to enter the market and customers were able to get all their shopping under one roof. Milkmen were in decline but due to the increased demand for home milk delivery and people looking to live a more sustainable life, milkmen & woman are making a return.
Glass reusable bottles
Glass milk bottles were gradually replaced by plastic cartons back in the 1960s as this was the best and most convenient way to store a larger volume of milk rather than multiple glass pints. The most popular container for fresh milk is the white plastic bottle, with a handle for easy lifting and pouring, however only about 75% of these are recycled which means the rest are going to landfill where it will affect our oceans however within the last few years this has reverted back to most milk being delivered in glass reusable bottles.
One of the many reasons why milk delivery service is on the increase is due to the environmental factors they have on the environment. Glass milk bottles can be reused to up to 25 times and is fully recyclable. Our local milk men and woman collect the empty bottles from customers doorsteps and taken them back to where they are sterilised and re-filled, ready for another use. We call this 'rinse and return'. Glass milk bottles are long-lasting and have a longer life-span than the traditional plastic cartons.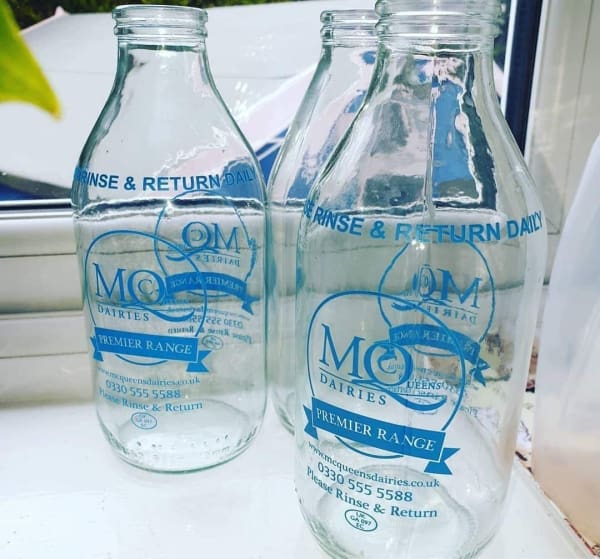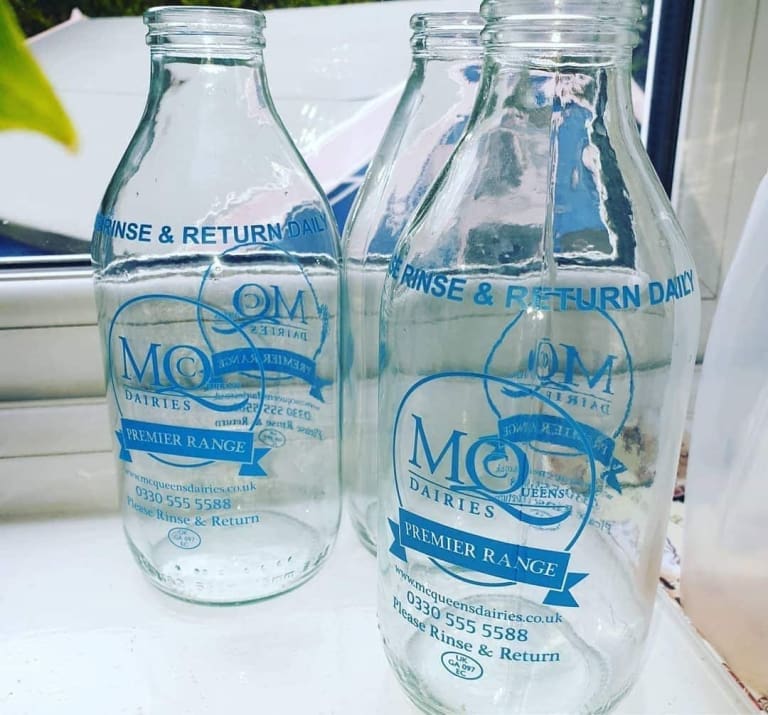 Why order a milk delivery?
Many people have busy lives and the convenience of having fresh milk on their doorsteps means its one less thing to worry about. At McQueens Dairies we deliver up to twice per week and we deliver everything from whole milk to skimmed to 1% fat and organic milk. Find our list of products here.
We find that many people want to reduce their plastic waste, as well as having something they use every day right on their doorstep, convenient to them. The amount of single-use plastic saved from going into our oceans is huge thanks to glass bottles making it easier to deliver milk in. The nostalgia is also a factor as to why some people order a home milk delivery. Remembering the days, the milkman would come to the house and leave the pints by the door ready for you waking up in the morning is a feeling a lot of people have missed!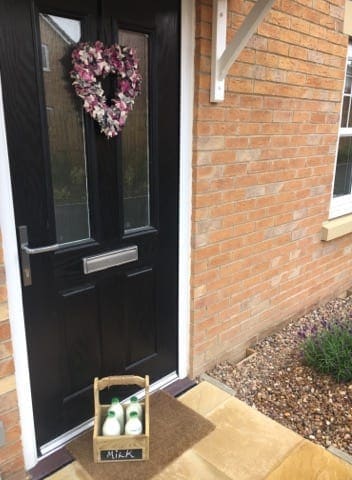 With deliveries aiming to be at your doorstep for 7am, you can ensure that home milk delivery is the way to go. The feeling that comes with waking up to glass milk bottles at your doorstep is one that remains one of the most exciting parts of the day. Ordering your milk online and being able to adjust it online, makes the home milk delivery process even easier.
Home milk delivery saw a decrease in the last 20 years, but more recently has taken a huge spike with more and more people choosing this option for convenience and the nostalgia over shop bought milk. The glass milk bottles and glass bottles of orange juice are a firm favourite with McQueens Dairies customers as over 80% of new online customers opt for a glass bottle milk delivery rather than the plastic cartons.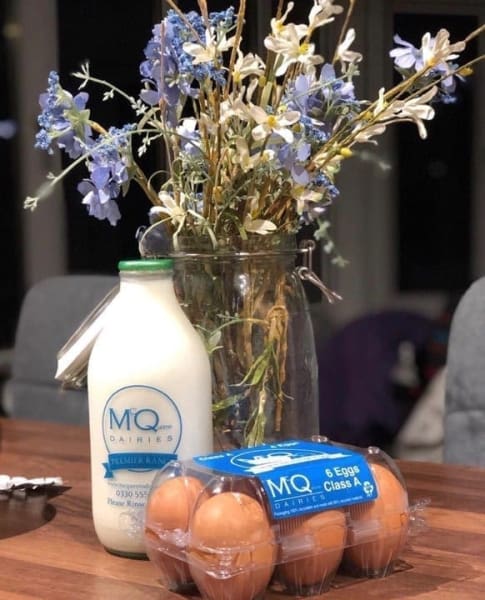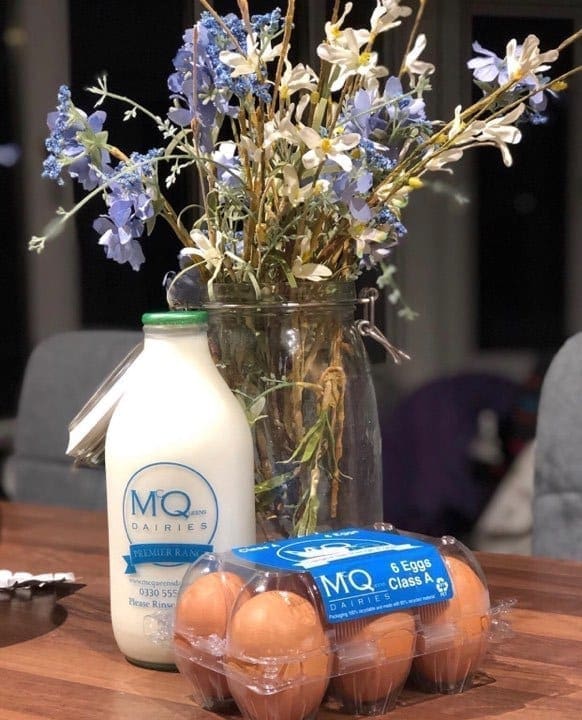 Where do I sign up for this service?
You can sign up right here on our website! Browse through our list of products and add your favourites to your basket. Once at the check out let us know who we should deliver to and how many deliveries per week you would like. Once complete, you will receive confirmation of your order and your delivery days within 7-10 days. You can amend your order at any time by using your customer reference number and password to increase or decrease your order, pause your deliveries if you are going away and send a message to us about your delivery through the customer portal.
The milk delivery service is on the increase due to the environmental awareness of the harm plastic is having on our environment and the convenience of having it delivered straight to your doorstep. Order online now
Back >