McQueens Dairies Local Milkman Delivery
Having a local milkman and having milk on your doorstep will be in many people's memories. But did you know you can still get your milk delivered?
Milk delivery started in the UK in 1860. This was when railroads enabled fresh milk to arrive into cities from the countryside. 20 years later, fresh milk in glass bottles were introduced and many people took advantage of the convenient method of having their milk delivered. In 1975, local milk delivery increased, and this was the most popular form of receiving milk by 94%.
The convenience of having milk on your doorstep each morning was something that many people enjoyed, due to the lack of shops available at the time. The milk men and women would often wave good morning and make conversation to their customers, as they made their rounds and many people appreciated this personal touch of customer service.
The decline of milk delivery
Towards the end of the 20th century, home milk delivery began to decline quickly. At this time, not many homes had a refrigerator. This meant many households were reliant on milk being delivered each day.
By 1940, many households were buying their own fridge to help with the refrigeration of other products. This was when the decline in milkmen started to show, as people could buy milk in bulk. This would help to keep it fresh in their fridge for two or three days.
Local stores began selling milk, bread and meats, meaning customers were able to buy the household essential items under one roof. With the boom in supermarkets, and as more people had a car, customers began doing a weekly shop that would include milk at a cheaper price. Milk delivery declined but it never disappeared.
The return of the local milk man
While milk delivery has always had a place in modern day society, the increase demand for it today has been encouraged by the environmental awareness we now all have on the damage plastic is causing to our environment. Companies are now supplying their milk in glass reusable bottles, due to the demand for families and alike have to reduce their plastic consumption.
Glass milk bottles can be reused an average of 25 times before general wear and tear makes them unsuitable to reuse. At McQueens Dairies, our customers rinse their glass bottles and leave them out on their doorstep to be collected. These are then taken back to one of our 8 depots to be sterilised and reused. This reduces the carbon footprint of the glass bottles significantly. We also sell moopops, which are silicone reusable milk tops to help keep your milk fresh once opened!
Does the job of a milk man and woman still exist?
Yes – they never really went away! While the milk delivery industry declined when plastic milk cartons were introduced into shops, milk men and women were still working hard to deliver milk. The use of the local milkman has seen an increase within the last 3 years. This is due to the increased awareness of the damage plastic is having on our environment.
Why use a local milk man/woman?
The role of a milk man or woman is one that has been revived throughout the years. The nostalgia of hearing the clink of the glass bottles as the milkman made his way up the path, is one we remember all too well. Glass reusable milk bottles have risen due to the environmental factors. This means it takes many years for a plastic milk carton to decompose and people are becoming more aware of this. The switch from plastic to glass is easy and cost effective.
Milk Delivery in 2019
Today's local milkmen/woman have had to move with the times, increasing the product range to orange juice and eggs. Having a website for customers to order from, as well as weekly direct debit schemes. So this means, no more scrambling around to find change for your local milkman!
McQueens Dairies has over 300 milk men and women who work tirelessly to make sure every customers order is fulfilled.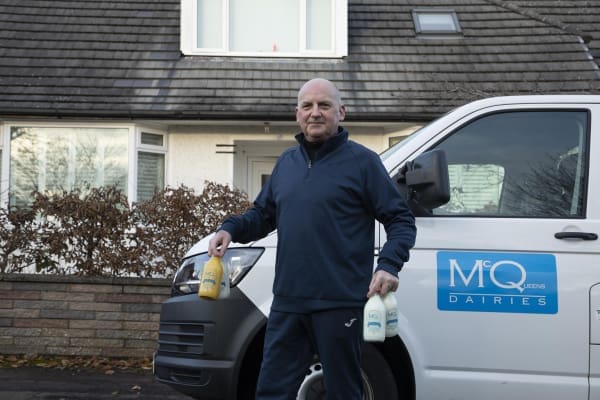 Join thousands of customers and enjoy fresh milk, juice and eggs delivered straight to your doorstep before 7am.