Free delivery on all orders!
No minimum order, get what you need!
Cancel anytime, no commitment!
5 Simple reasons to choose McQueens Dairies
McQueens Dairies reviews are written by customers who have tried and loved the service we offer. Have a read below at why McQueens Dairies should be your milk delivery company of choice.
1. We have an excellent customer service team!
Our customer service team are always on hand to answer any and all queries you may have.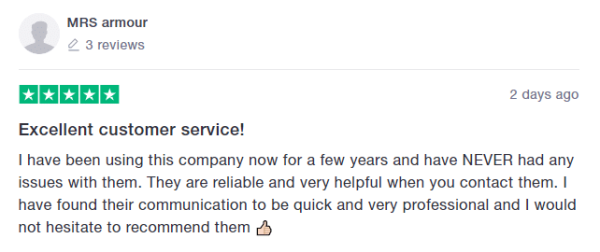 2. Glass milk bottles are making a return and so are the milkmen
Glass milk bottles are a well loved tradition and we know our customers love the taste of milk from a glass bottle and that's why we have never stopped producing and selling in the glass!

3. We offer our customers a range of great quality products
We have a range of products to choose from and with our online portal, you can amend your order as and when you wish.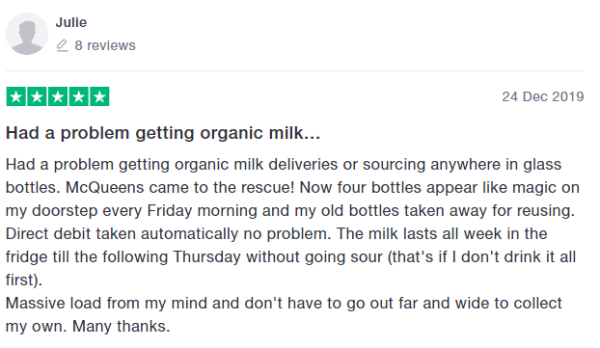 4. Busy life? We help to make your busy life, a little less stressful and have one less thing to worry about
With deliveries made before 7am and on each delivery morning , you'll never need to worry about running out of milk or juice.

5. We pride ourselves on providing our customers with the best service and the highest standard of products.
We are updating the doorstep delivery and as a company we currently sell the highest quality McQueens milk to our consumers. As a family, we want to make sure milkmen don't become a thing of the past and we believe that with the right product and delivery service there is still room in the future for the milkman.

If these reviews haven't convinced you to place an order, have a look for yourself on Trustpilot. 
To place an order simply visit our shop page
For any queries or concerns, please contact us on via our contact form or call us on 0330 555 5588