Free delivery on all orders!
No minimum order, get what you need!
Cancel anytime, no commitment!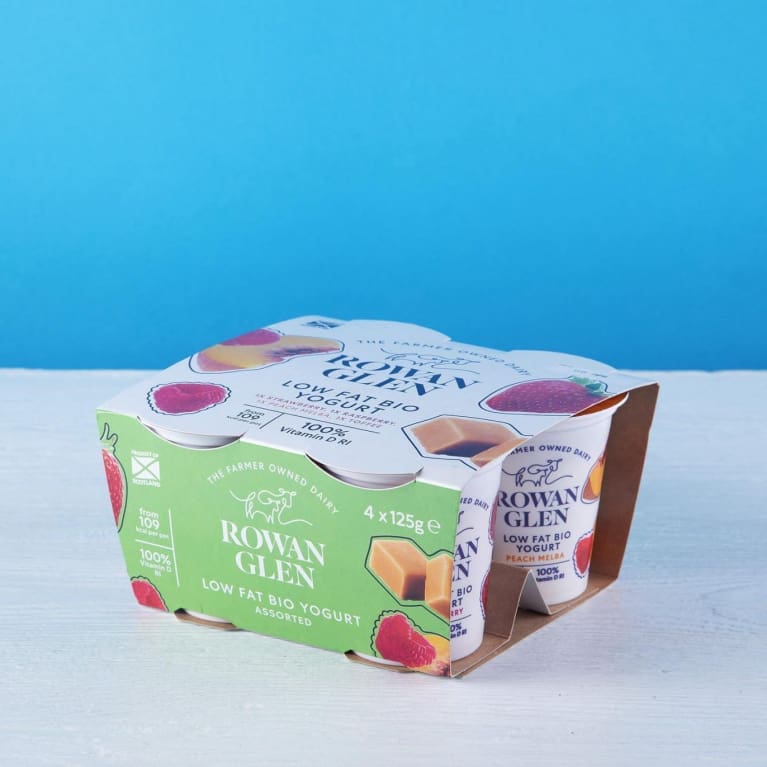 Rowan Glen Low Fat Yogurt – Assorted Four Pack
£2.09 including free doorstep delivery
Enjoy the delicious taste and variety of Rowan Glen Low Fat yoghurt Assorted Four Pack. Our yoghurt is made from fresh, low-fat milk and comes in four different flavours to suit your taste buds. It's also a great source of protein and calcium, making it a healthy choice for a snack or dessert. Low Fat Bio Assorted yoghurts 4 x 125g 1 x Strawberry 1 x Raspberry 1 x Peach Melba 1 x Toffee
Contains cow's milk.
Toffee Flavour  (Typical values per 100g) Energy: 598kJ/141kcal Fat: 1.8g Carbohydrate: 27.3g of which sugars: 16.7g Fibre: 0g Protein: 4.1g Salt: 0.13g    
Peach Melba Flavour (Typical values per 100g) Energy: 491kJ/116kcal Fat: 2.1g Carbohydrate: 19.8g of which sugars: 13g Fibre: 0g Protein: 4.5g Salt: 0.13g    
Raspberry Flavour (Typical values per 100g) Energy: 511kJ/121kcal Fat: 1.6g Carbohydrate: 23g of which sugars: 13.5g Fibre: 0g Protein: 3.5g Salt: 0.13g    
Strawberry Flavour (Typical values per 100g) Energy; 459kJ/109kcal Fat: 1.5g Carbohydrate: 19.6g of which sugars: 12.2g Fibre: 0g Protein: 4.1g Salt: 0.13g