Easy Pancake Recipe for Shrove Tuesday
Make the perfect pancakes this Shrove Tuesday with our Easy Pancake Recipe. This light and fluffy tasty snack is sure to be a winner at the breakfast table.
Easy Pancake Recipe
Ingredients
100

Grams

Plain flour

2

Large

McQueens Dairies Free Range Eggs

300

ml

McQueens Dairies Milk

1

tbsp

Sunflower or Vegetable Oil
Instructions
Set aside for 30 mins to rest if you have time, or start cooking straight away.

Set a medium frying pan over a medium heat and carefully wipe it with some oiled kitchen paper.

When hot, cook your pancakes for 1 min on each side until golden, keeping them warm in a low oven as you go.

Serve with butter, syrup or your favourite filling….and enjoy!
Did you know, that pancakes were traditionally eaten on Shrove Tuesday? This was a day of feasting and partying before the beginning of Lent. Pancakes were a good way to use up stores of about-to-be-forbidden perishables like eggs, milk, and butter. 
There is no doubt that pancakes are a great breakfast treat or snack. You can top it with fresh fruit for more of a breakfast option. Or drizzle in chocolate for a treat. You can also add some fruit such as blueberries into your pancake batter for an alternative taste. The BBC's recipe for fluffy pancakes which could be applied to the above recipe says: 
"For extra-fluffy pancakes substitute self-raising flour for plain flour and still use the baking powder. Serve the pancakes with fresh strawberries and good vanilla ice cream. Use half buckwheat flour and half plain flour and serve with maple syrup and bacon. You can also add one teaspoon of ground cinnamon to the buckwheat batter and serve with caramelised apple slices and thick double cream"
We would love to see your creations! Share your pancakes with us by using the #McQueensMakes hashtag!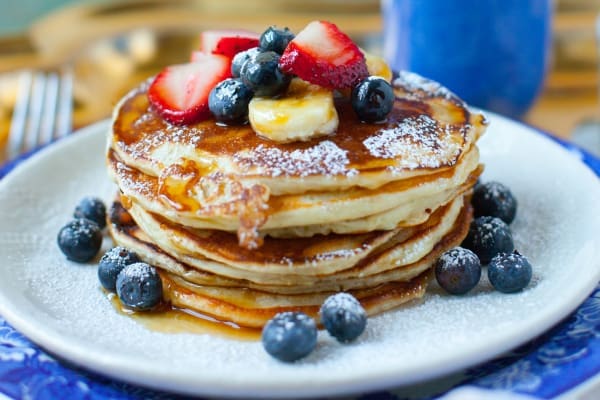 Join thousands of customers and enjoy fresh milk, juice and eggs delivered straight to their doorsteps before 7 am.
Whether you're baking for your Valentine, Galentine, or a bit of self-love, nothing says 'I love you' more than a baked Valentine gift and these heart-shaped iced biscuits are the ideal treat; soft, sweet, and delicious!
Before you get your heart set on making these, tasty treats, don't forget to add a carton of our free-range eggs to your order!
If you make these easy heart-shaped iced biscuits, let us know what you think! Tag @mcqueensdairies in your photo and add the hashtag #McqueensMakes in your caption!
Heart-Shaped Iced Biscuits
Ingredients
For the biscuits
200

grams

unsalted butter

(softened)

200

grams

golden caster sugar

1

large

egg

½

tsp

vanilla extract

400

grams

plain flour

(plus extra for dusting)
To decorate
8-12

19g coloured icing pens
Instructions
Making the dough
Heat oven to 200C/180C fan/gas 6

Put the butter in a bowl and beat it using an electric whisk until soft and creamy.

Beat in the sugar, then the egg and vanilla and finally the flour to make a dough (If the dough feels a bit sticky, add a little more flour and knead it in.)
Forming the dough
Cut the dough into six pieces and roll out one at a time to about 5mm thickness on a floured surface. 

Cut out heart shapes by and or with a heart-shaped cutter, and peel away the leftover dough at the edges. Re-roll any off-cuts and repeat.
Baking the biscuits
Transfer the whole mat or the individual biscuits to a baking sheet (transfer them to baking parchment if not using a mat) and bake for 7-10 mins or until the edges are just brown. You should be able to fit about 12 on each sheet. If you are using two sheets, then the one underneath will take a minute longer.

Leave to cool completely and repeat with the rest of the dough. 
Icing
Ice the biscuits using the pens to make stripes or dots, or colour in the whole biscuit if you like. They will keep for five days in an airtight container.
A winter warmer like no other, our recipe for vegan lasagne with vegan white sauce (Bechamel) will serve you up a plate of cosiness and comfort for the cold winter nights ahead.
This recipe is guaranteed to impress even the most avid meat-eaters in your life. It's comforting, filling, satisfying and full of flavour!
Usually, Bechamel consists of butter, flour and dairy milk, but our vegan bechamel sauce recipe contains no dairy products. Instead, we're going to replace the butter with olive oil and the dairy milk with vegan milk. Any unflavoured vegan milk will work, but we find unflavoured oat milk and unflavoured soya milk works the best and make this sauce just as rich and creamy as dairy milk – perfect for lasagne!
Make this easy vegan recipe and let us know what you think! Make sure to tag @mcqueensdairies in your photo and add the hashtag #McqueensMakes in your caption!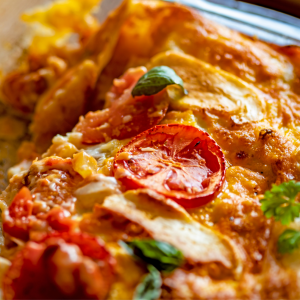 Vegan Lasagne with Vegan White Sauce (Bechamel)
A healthy vegan lasagne with vegan white sauce (Bechamel) that's comforting, filling, satisfying and full of flavour!
Ingredients
For the filling
4

tsp

olive oil

1

white onion

finely chopped

2

garlic cloves

crushed

500

grams

meat-free vegan mince

2

tbsp

tomato purée

800

grams

chopped tomatoes

2x 400g tins

1

tbsp

dried mixed herbs

1

tsp

caster sugar

8-10

sheets

no pre-cooking required lasagne sheets
For the white sauce (Bechamel)
2

tbsp

olive oil

25

grams

plain flour

600

ml

oat milk

(oat milk or soy milk works best for this recipe)

1

tbsp

nutritional yeast flakes

1/2

tsp

nutmeg

100

grams

dairy-free cheese alternative

grated
Instructions
Make the filling
Preheat the oven to 200°C (180°C fan oven) mark 6.

Heat 2tsp oil in a large pan over medium and fry the onion, with a pinch of salt, for 10min, until beginning to soften.

Add remaining 2tsp oil, the garlic and mince and fry for 10min.

Stir in the tomato purée; cook for 1min

Add the tomatoes, mixed herbs, sugar, 200ml water and seasoning.

Simmer for 10min to reduce.

Remove from heat and set aside.
Making the white sauce (Bechamel)
Heat your frying pan on medium heat and melt the olive oil.

Turn down the heat to low, whisk in the flour and cook for 1min.

Remove the pan from the heat and gradually whisk in the oat milk and stir constantly until combined. This will help make it super smooth and creamy.

Return to heat and cook, stirring constantly, until thickened (it will need to simmer).

Remove from heat and stir in the nutritional yeast, nutmeg the cheese alternative.

Taste & season with salt and pepper.
Tips
Use hot milk. This helps the roux dissolve into the milk better

Add the milk slowly and stir constantly.  This will help make it super smooth and creamy.

Add a little more oat milk for a thinner sauce or add a little less oat milk for a thicker sauce.

Cook it on low heat (never high!)
Assemble your vegan lasagne
Spread half the tomato filling in the base of a deep 2-litre ovenproof serving dish.

Lay over half of the pasta sheets in a single layer to cover.

Top with half the white sauce. Repeat layering once more, ending with white sauce.

Sprinkle over the remaining cheese alternative.

Cook in the oven for 50min, until bubbling at the edges and golden on top.

Voila! A creamy vegan lasagne with vegan white sauce!
The old cliché saying goes – breakfast is the most important meal of the day. Various studies have proven this to be true. We have come up with 10 delicious breakfast smoothie recipes with fruit to help fuel you up for the day ahead.
Is it healthy to have smoothies for breakfast?
Smoothies can make a healthy breakfast that is if you have a fair balance of ingredients and nutrients. This includes protein, carbs, and healthy fats. Smoothies that heavily rely on vegetables over fruit cut down your sugar and increase the fibre content. You also want to avoid adding a lot of fruit juice and sweeteners, like syrups and honey, to limit the sweet stuff. Adding yoghurt helps to make your smoothies more filling, so you will stay fuller for longer.
The liquid bases you use in your smoothie also play a big role. Fruit juices are great however if you want to opt for a healthier, less sweet option, then go for milk or a non-dairy milk alternative, like almond, coconut, or oat milk.
Can I have a breakfast smoothie every day?
If you're looking to get your own blender to use and start making smoothies at home, you're already one step ahead with saving yourself money. This way you can control exactly what goes into your smoothies. Enjoying a breakfast smoothie every day is absolutely fine if you make sure it has a good balance of nutrients.
Peach Blueberry Smoothie
This sweet blend of peaches and blueberries will have you feeling like it's summertime in the middle of winter.
In a blender, combine a 125ml milk of your choice with 4 slices of fresh peaches, a handful of blueberries and a handful of kale then blend until smooth. You can add a peach or blueberries flavoured yoghurt for extra taste
.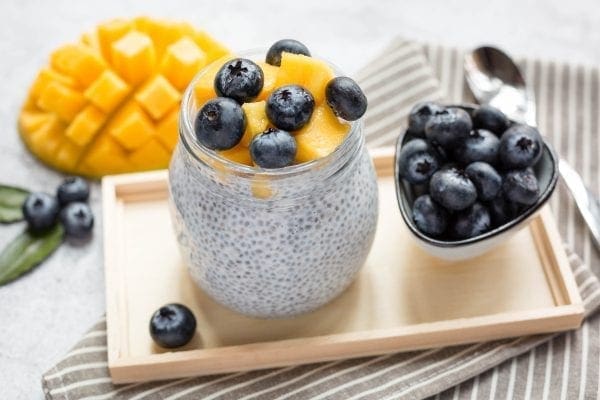 Banana-Blueberry-Soy Smoothie
The delicious and fresh blueberries in this healthy smoothie, which also includes banana and vanilla for sweetness will leave you wishing you had made more.
Combine 250ml of soy milk with a handful of frozen blueberries, 1 chopped banana, and one teaspoon of pure vanilla extract. Blend for around 20 to 30 seconds until smooth. You can add more milk if you prefer to have the mixture thinner. The advantage of making your own smoothie at home is being able to control exactly what goes into it.
Milk and Honey Smoothie
Make yourself a refreshing and sweet milk and honey smoothie using a few simple ingredients.
In a blender, combine 250ml of almond milk, 1 medium cucumber (peeled and sliced), 50g of green grapes, 2 medium stalks celery (peeled and sliced), and 1 tbsp of honey. Blend until the mixture is smooth.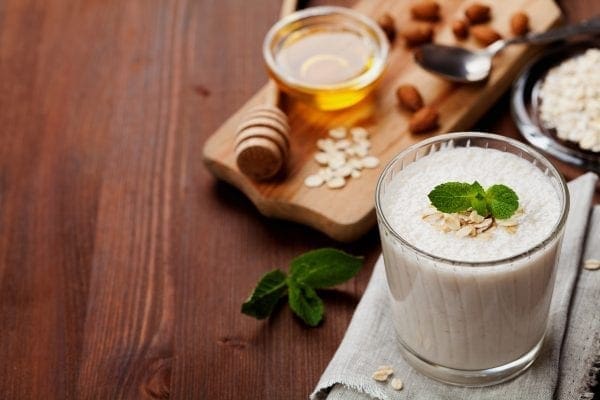 Berry-Banana-Oat Smoothie
Oats add some thickness to your smoothies and help you feel fuller longer. The blend of berries and bananas is a flavour loved by many.
In a blender, combine a handful of frozen strawberries, 250ml of low-fat yoghurt, 1 banana, sliced, 150g of rolled oats, 250ml orange juice, and 1 tbsp honey. Blend until the mixture is smooth. Enjoy!
Caribbean Dream Smoothie
Using your Greek yoghurt to make a breakfast smoothie is a great option and it tastes delicious too.
Blend 100g of pineapple chunks, 50ml Greek yoghurt, 200ml refrigerated coconut milk, 100ml of orange juice, 1/4 of a large banana, a handful of blueberries and a handful of ice cubes until smooth.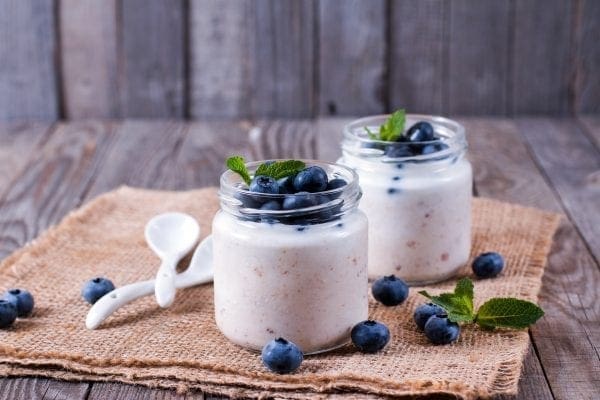 Cranberry Banana Smoothie
The banana adds body and sweetness, almond milk keeps the calorie count low, and maple syrup offers a seasonal sweetness.
In a blender, add a handful of frozen cranberry, 250ml unsweetened almond milk, 1 banana, 1 tbsp of maple syrup, ½ cup ice cubes. Puree until frothy and smooth.
Orange Dream Smoothie
This orange dream breakfast smoothie is the perfect breakfast recipe for after a workout to give you the refreshment you need.
Start by adding 1 orange (peeled), 100ml milk or yoghurt, 250ml orange juice from concentrate, 1/4 tsp. vanilla extract, and 4 ice cubes. Throw all the ingredients into a blender and process until smooth.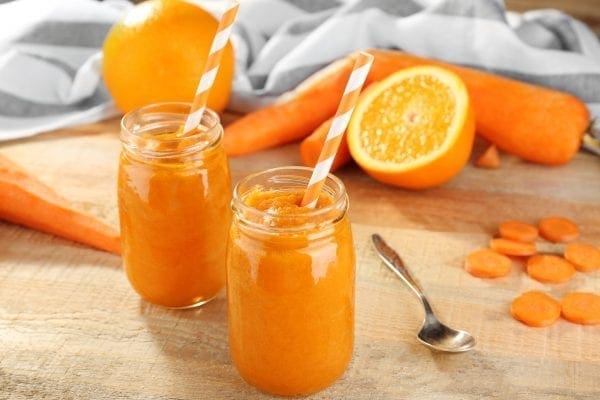 Strawberry-Kiwi Smoothie
The fruity, low-calorie smoothie recipe becomes healthier when you use organic kiwis, which contain higher levels of vitamin C.
In a blender, combine 250ml of apple juice, 1 ripe banana, 1 kiwi, 5 frozen strawberries and 2 teaspoons of honey. Puree until smooth and enjoy.
Watermelon Wonder Smoothie
Transform a summer fruit favourite into a delightful healthy smoothie. To prepare, add some chopped watermelon to a blender with 250ml of milk and 2 cups ice. Blend for 20 seconds or until you've achieved your desired consistency.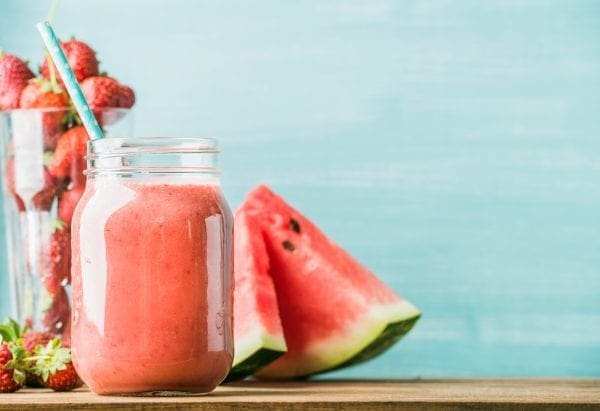 Tutti-Frutti Smoothie
A splash of orange juice infuses citrus into this healthy and refreshing snack.
All you need is a handful of mixed frozen berries, some crushed pineapple in juice, 50g of plain yoghurt, half a sliced banana, and 100ml orange juice. Blend for about two minutes, or until smooth.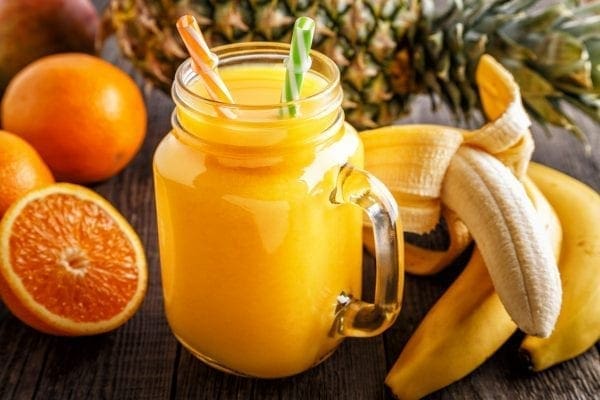 These breakfast smoothie recipes are sure to help you get ready for the day ahead. Not only are they quick and easy to make, but they taste delicious too.
You must try these easy breakfast smoothie recipes and let us know what you think! If you do make one, let us see it on social! Tag @mcqueensdairies on your photo & add the hashtag #McqueensMakes in your caption so we don't miss it!
Join thousands of happy McQueens Dairies customers and enjoy fresh daily milk delivered straight to your doorstep before 7 am with our local milkmen.  Add on alternative milk, yoghurt, juice or just choose a milk and eggs delivery. Place your order in our online shop.
Poached Eggs | How to Microwave Eggs | Avocado and poached egg recipe
If you are an egg and avocado lover, then this recipe is for you. Poached eggs are an all time breakfast favourite, however when you add avocado to it, it becomes the ultimate healthy breakfast meal.
Avocado and poached egg recipe
Avocado & poached egg recipe
Ingredients
2

Large

McQueens Dairies free range eggs

2

Slices

of bread

1/3

of an avocado, smashed

Salt and pepper for topping

Small handful of cherry tomatoes, sliced in half.
Instructions
Bring a pot of water to boil (make sure to use enough water to cover the eggs when they lay in the bottom).

Crack the egg into a small individual cup, so that it's ready to pour into the water.

Using a spoon, begin stirring the water in a large, circular motion (like a tornado).

Once the water is really moving, add the eggs. The motion of the water will wrap the egg white around itself so the egg stays together as it cooks.

Cook the eggs for 2½ to 3 minutes, then remove with a slotted spoon.

Whilst the egg is cooking, toast your bread. The add the smashed avocado on top then add your poached egg.

Crack open your poached egg to reveal a perfectly poached, yellow yolk inside.
For best results, poach one egg at a time. However if you are tight on time, adding one after the other can also work. You may have to spin the water again before adding the 2nd one for the maximum effect. You can also pre make your poached eggs and simply add them into warm water before serving if you wish to make them ahead of time. If you find that the eggs whites are splitting, it means the water wasn't swirled fast enough. To avoid this, make sure you insert the eggs as soon as the spoons comes out.
You can add various toppings to your avocado and poached egg meal. Cherry tomatoes are a healthy favourite to add but simply just adding salt and pepper is equally as nice. This recipe can be made the night before and simply heated in a microwave if you wish to have it for lunch the following day.
The great thing is, you can have eggs delivered straight to you doorstep along with your milk. This means you are never without if you are in the mood to make poached eggs with avocado on toast.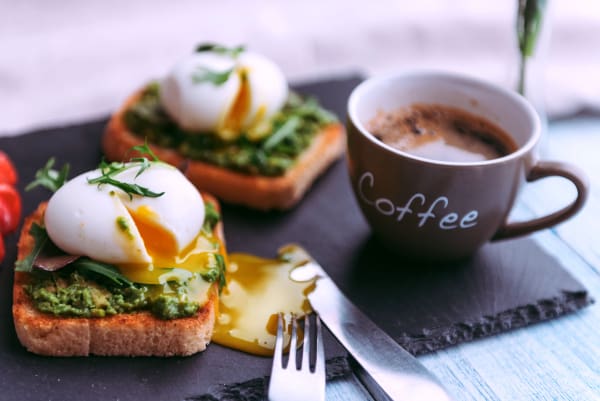 Join thousands of happy McQueens Dairies customers and enjoy fresh daily milk delivered straight to your doorstep before 7am with our local milkmen. Add on alternative milk, yoghurt, juice or just choose a milk and eggs delivery. Place your order in our online shop.
Eton Mess Recipe
Make up the strawberry swirled meringues and fruit puree the day before, then just layer with whipped cream and extra fruit in recycled jam jars and screw on the lids, take out to the garden in a basket or pack into a cool box for a picnic pud. 
Ingredients
2

Egg Whites

100

g

Caster Sugar

300

ml

Double Cream

200

g

0.1% Fat Fromage Frais

225

g

Strawberries, hulled, roughly chopped

50

g

Raspberries
Instructions
Preheat the oven to 110°C (225°F), Gas Mark ¼. Line a large baking sheet with non-stick baking paper. 

Puree the strawberries and raspberries in a liquidiser or food processor then press through a sieve. 

Whisk the egg whites in a large clean dry bowl until they form stiff moist looking peaks and you feel confident that if the bowl was turned upside down the egg whites wouldn't fall out!

Gradually whisk in the sugar a teaspoonful at a time then continue whisking for a minute or two until really thick and glossy. 

Add 2 tablespoons of the berry puree then very briefly mix until marbled. Spoon into a large piping bag fitted with a 1.5cm (¾ inch) plain piping tube, pipe small rounds on to the lined baking sheet. Bake for 1¼ -1½ hours or until the meringues may be easily lifted off the paper. Leave to cool. 

To serve, lightly whip the cream until it forms soft swirls then fold in the fromage frais. Crumble the meringues then layer in jam jars or plastic containers with the remaining berry puree and diced strawberries. Decorate with the raspberries.  Add the lids and keep in the fridge until ready to serve or transport to a picnic in a cool bag with a frozen ice block to keep them cold. Serve with

in 1½ hours or the meringues tend to lose their crunch.
French toast is a classic brunch favourite. In fact, it's a favourite for any time of the day. It's simple and quick to make and tastes delicious too. Whether you like it with maple syrup, bacon or some fruit, french toast is a meal that is sure to set you up for the day. However, how about adding a little bit of spice to your french toast? Cinnamon french toast is the perfect combination of sweet and savory whilst maintaining the classic french toast fluffiness. It is great for those who don't like the 'eggy' taste as the cinnamon takes that away. Follow our recipe below on how to make light and fluffy cinnamon french toast.
Cinnamon French Toast
Ingredients
1

Large

McQueens Dairies free range egg

2

Slices of bread

2

tbsp

McQueens Dairies milk

32

g

Granulated sugar

1

tsp

Cinnamon

2

tbsp

Unsalted butter
Instructions
In a bowl, whisk together the 2 McQueens Dairies eggs and milk.

Grab a plate and add the cinnamon and granulated sugar and gently mix together.

Heat the butter up in a large frying pan, waiting until it is bubbling.

Dip the bread into the egg/milk mixture and place into the frying pan. Fry for 2-3 minutes on each side until soft and golden brown.

Once the bread has been removed from the pan, quickly coat it in the plate of cinnamon and granulated sugar, repeat for both slices of the bread.

Serve immediately and enjoy.
With this cinnamon french toast recipe, you can top with anything you wish. You can go for the healthy option and choose fruit, such as blueberries, strawberries or a banana. Alternatively, if you are looking for something sweeter, you could add syrup or chocolate spread. If you prefer your toast a little crispier, simply leave the bread in the frying pan for slightly longer until it looks how you like it.
So now you know what to make with your McQueens Dairies eggs and milk. Our large free range eggs make for the perfect french toast amongst many other delicious breakfasts. If you would prefer to make traditional french toast, simply follow our recipe here.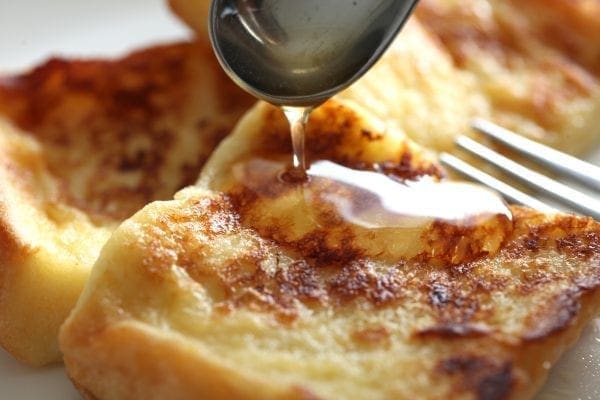 Join thousands of happy McQueens Dairies customers and enjoy fresh daily milk delivered straight to your doorstep before 7am with our local milkmen. Add on alternative milk, yoghurt, juice or just choose a milk and eggs delivery. Place your order in our online shop.
When life gets busy, we often look for convenience and quick & easy meals to see us through. Peanut butter overnight oats are the perfect quick breakfast solution. With only 5 ingredients required and only 5 minutes needed to prepare it.
What are overnight oats?
Overnight oats are a quick and easy breakfast meal or snack which is made by soaking oats overnight. They are simple to prepare (no cooking or ovens needed!) and great for when you need to plan your breakfast or snack ahead of time, especially for those with hectic mornings. Whilst this recipe is for peanut overnight oats, it can be easily amended to fit your preferred taste. We also think this peanut butter overnight oats recipe would make the perfect meal to enjoy after a session at the gym.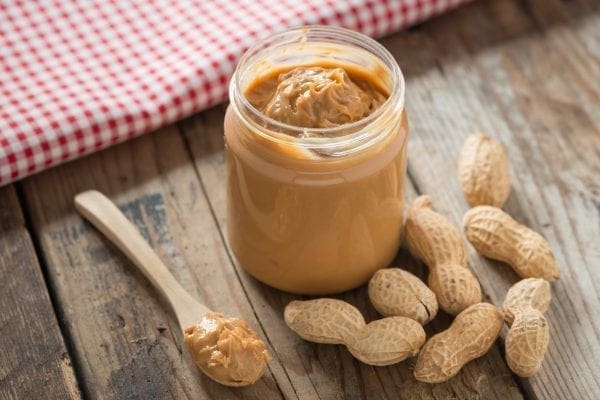 Which types of oats should I be using?
The type of oats you use are important too. Using quick oats will cause them to become far to soggy when soaked in the milk. Using porridge oats will make for a different texture to the rolled oat which is thick in consistency. This is fine if you are happy with a thicker consistency however many people do prefer to use rolled oats. Rolled oats give a smoother texture and is generally the preferred type of oat when it comes to making your peanut butter overnight oats.
As previously mentioned, you do not have to add peanut butter to your overnight oats. You can adjust the ingredient to fit your own taste. Some people substitute the peanut butter for berries, yogurt or even chocolate spread if you want a sweeter version. Yogurt is a great alternative to add as it makes for a light and refreshing breakfast snack for your oats. At McQueens Dairies, we offer yoghurt to be delivered with your milk deliveries. Your local milkman will drop it off to your doorstep before 7am to ensure you have what you need to make your overnight oats.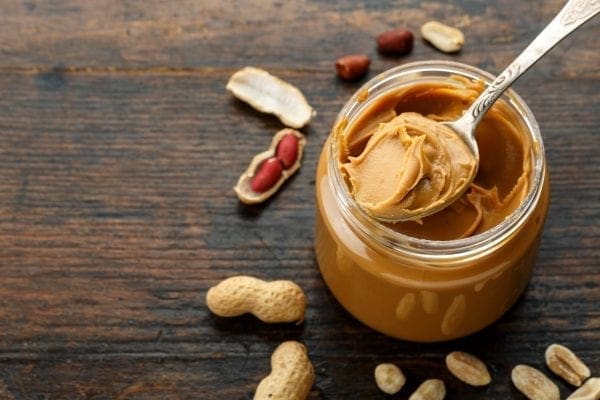 What do overnight oats taste like? Do they taste good?
If you like porridge or oat milk then we are sure that you will like overnight oats. The texture is what can put some people off, however once you have gotten used to the texture, you will start to enjoy them. The great thing about overnight oats is that there is no one strict recipe you have to follow. If you are allergic to nuts, add yogurt instead of the peanut butter, if you are unable to drink dairy milk you can simply use any milk alternative such as almond, coconut or oat milk.
Can you eat heat the overnight oats and eat warm?
Your peanut butter overnight oats can be eaten hot or cold. To heat, microwave for around 45-60 seconds or transfer to a saucepan and heat over medium heat until warmed through. Taking your peanut butter overnight oats to work means you save time and will save you money, stopping you from going to the shops for lunch.
Can you use steel cut oats for this recipe?
Many recipes on the internet debate the success of using steel cut oats to make overnight oats. They will take longer, require more liquid, and probably won't be quite as soft. They may also be more difficult to digest. We would recommend using rolled oats for this recipe.
How long do the peanut butter overnight oats last for?
If kept refrigerated your oats should last around 5 days. This is great for batch making ahead of time so you can quickly grab them for breakfast when rushing out the door or as a quick pre made snack.
Below is our recipe for peanut butter overnight oats. As already stated, you can switch out some ingredients for your own and try a variety of McQueens milk or other alternative milk products.
Peanut Butter Overnight Oats Recipe
Ingredients:
125ml McQueens Dairies milk (or any other milk alternative of your choice)
2 tbsp Peanut Butter
1 tbsp Maple Syrup
45 grams Rolled Oats
Sliced banana, strawberries or raspberries (Optional)
Granola (Optional)
Instructions:
For the first step, add the milk, peanut butter, and maple syrup to a bowl (or other sweetener) and stir with a spoon to combine. (The peanut butter doesn't need to be completely mixed with the milk but make sure it is slightly combined)
Then using a spoon, press down firmly to ensure all the oats are fully submerged in the milk.
Cover securely with a lid or seal and set in the refrigerator overnight
The following day, remove from the fridge and add your fresh fruit (optional) and enjoy.
You can play around with the recipe/quantity of ingredients to find what works for you. You can add a little vanilla to your oats and the recipe is completely open to your interpretation. The refrigeration part is key. Your oats need to be placed in the fridge for at least 6 hours and is usually best done at night time (hence the name, overnight oats).
Peanut butter overnight oats are a quick and easy breakfast meal or snack that can help you focus on doing things in the morning without having to worry about breakfast time. McQueens Dairies help take the stress out of mornings too. With delivery on your doorstep by the time you wake up, you have one less thing to worry about.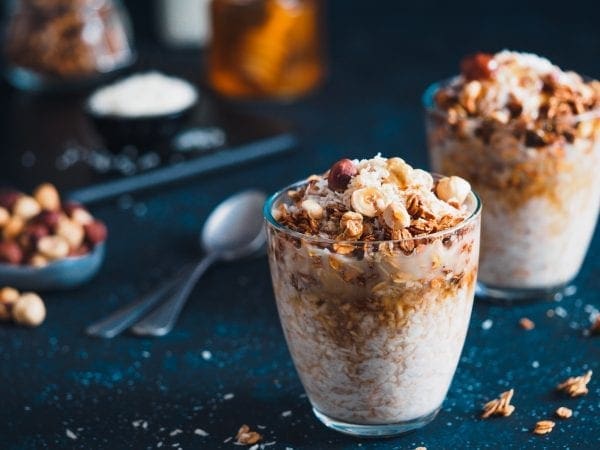 Join thousands of happy McQueens Dairies customers and enjoy fresh daily milk delivered straight to your doorstep before 7am with our local milkmen. Add on alternative milk, yoghurt, juice or just choose a milk and eggs delivery. Place your order in our online shop.
Whilst the convenience of having an almond milk delivery to your doorstep is one we all love, making your own can be just as fun. You might be wondering, how is almond milk made? This homemade almond milk recipe allows you to control the amount of sweetness and allows you to test different thicknesses to the dairy free milk.
Almond milk is a non dairy milk alternative made from almonds. It has a nutty flavour and a creamy consistency and can be used as a replacement for cow's milk.  It's a plant-based milk alternative that is suitable for vegans and contains no dairy or animal ingredients. It comes in different types such as sweetened and unsweetened. Unsweetened vegan milk is thought to be healthier for you and can be used in direct replacement for cow's milk.
So, how is almond milk made? It is very simple to make your very own almond milk with the method only requiring only 2 ingredients, 10 minutes, and a blender.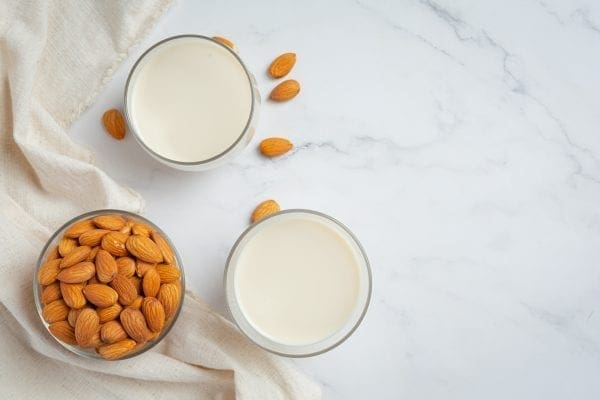 How is Almond milk made?
Making your very own almond milk starts with soaking almonds overnight in cool water. Warm water will drain the flavour out of the almonds so make sure the water is cool, but not freezing cold. It is also important to leave the almonds in a fridge overnight and not out on the counter. In the morning, drain the almonds thoroughly and then add to a blender. In the blender, add water, salt and anything else you wish to add. You can add vanilla, dates or berries for different variations of flavours.
Once added, blend for 1-2 minutes until combined. Then using a nut milk bag, if you don't have one of these you can easily use a clean tea towel, strain out the mixture into a bowl or glass.
How long your milk lasts depends on the temperature of your fridge and how fresh the ingredients are. On average we would say your milk should last around 4-5 days.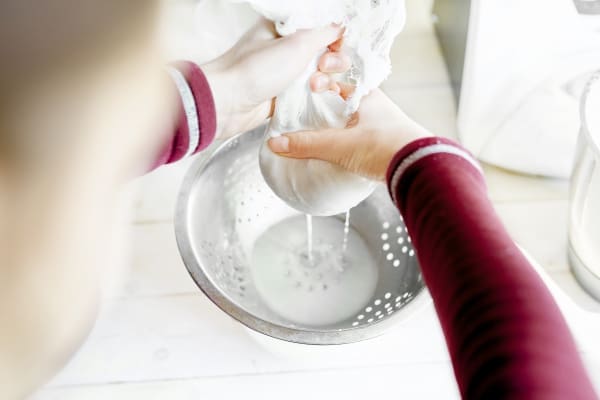 We hope the answer to your question – 'how is almond milk made?' has been answered however if making homemade almond milk is not for you and you wish to have an almond milk delivery we offer unsweetened almond milk and sweetened almond milk. The creamy and fresh tasting almond milk can be delivered twice weekly to your doorstep by our local milkmen. The benefits of an almond milk delivery means you never have to worry about waking up to no almond milk.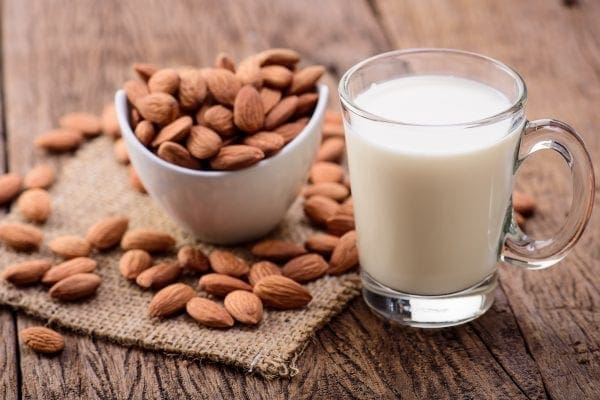 Join thousands of happy McQueens Dairies customers and enjoy fresh daily milk delivered straight to your doorstep before 7am with our local milkmen. Add on alternative milk, yoghurt, juice or just choose a milk and eggs delivery. Place your order in our online shop.
When life gets busy, we often look for easy meals that can be made quickly. If you are running out the house but need a tasty meal idea, this recipe for an omelette which can be done in less than 5 minutes!
When you're looking to create the perfect tasty omelette, you will have to consider the size of the pan. Too large a pan could cause the omelette to spread too thinly which is more prone to overcooking, while a small pan could make the omelette too spongy and thick to fold.
Removing your eggs from the fridge a few hours prior to making your omelette will help to form your omelette quicker once the eggs are in the pan.
Preparing all your fillings and ingredients first will help to make the process a lot quicker and easy to make before work. We are sure that you will love this easy to follow omelette recipe.
Quick and Easy Omelette
Ingredients
2

Eggs

Pinch of Salt

1

tbsp

Cold water

Dash of oil
Instructions
Take your eggs and crack them into a bowl –don't put them directly into the pan as you need to mix them first!

Add a teaspoon of water and a pinch of salt andpepper before whisking until the white and the yolk are whisked together.

Add oil to the pan so that the mixture doesn't stick and bring your pan to a high heat.

Pour in your mixture and cook on a high heat for two minutes, you can move your pan around to ensure the mixture takes the circular shape.

As the mix beings to come together, use a spatula to push the set egg towards the omelette centre

Cook the set omelette for another minute and loosen the edges with a spatula and fold the omelette in half.

Once out of the pan, serve immediately and enjoy your tasty omelette.
You can add any filling to your omelette such as tomato, cheese, onion, peppers or bacon. We are sure that you will love this easy recipe and you can even make this the night before work and reheat it at lunch time to make the perfect lunch snack.
McQueens Dairies Free Range Eggs
Why not try making your own omelette with McQueens Dairies Delicious Free Range Eggs? Our free range eggs can be added to your weekly deliveries in our online shop.
Remember to tag us in your quick and easy omelettes on Facebook or on Instagram using the hashtag #mcqueensdairies and we will re-share your delicious creations!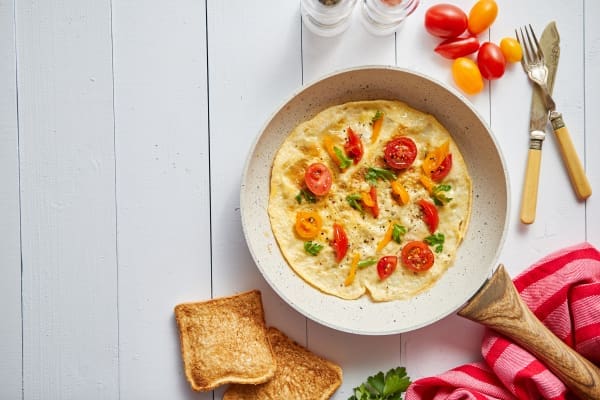 Join thousands of happy McQueens Dairies customers and enjoy fresh daily milk delivered straight to your doorstep before 7am with our local milkmen. Add on alternative milk, yoghurt, juice or just choose a milk and eggs delivery. Place your order in our online shop.
You may have tried our delicious McQueens oat milk before, but have you ever tried making it yourself? Homemade oat milk is not as complicated as you might think and can be done using only one ingredient. Oat milk is lactose free which makes oat milk perfect for those who are lactose intolerant. It is important to note that making oat milk is not like making other alternative milks like almond milk. With homemade oat milk, the goal is to press and squeeze the the mixture as little as possible. This is to make sure you have the right consistency. Read below to find out how to make your own oat milk. Alternatively you a can get your Oat milk delivered to you door twice week in cartons or reusable glass bottles.
Homemade Oat Milk
Instructions
Put the porridge oats into a bowl and fill it up with water from the tap. Cover the bowl with a tea towel and let the bowl sit for 4 hours or overnight. Do not put in the fridge.

Once you have let the oats overnight or for 4 hours, take a sieve and sieve the mixture and draining the water. Rinse the oats under the tap for a few seconds.

Now, put the oats into a blender or food processor with 750ml of cold water and 1/2 teaspoon of sea salt. Blend until completely smooth with no oats visible. The more you blend, the creamier your homemade oat milk will be.

Put the sieve over a bowl or jug and let the mixture pour out. Leave to strain for about 1 hour.

When most of the mixture has been strained, take the sides of the cloth together and squeeze tightly to extract the oat milk.

At this point, you can bottle it up and keep in the fridge until you are ready to drink. If the oat milk is too thick for your liking, you can add 50ml of cold water until you reach the consistency you like.
The first time you make homemade milk, you might find it time consuming and tedious but the more you make it, the easier it will become. This drink will last 2-3 days in the fridge and for the best taste, we recommend you shake before use. Making this milk can be a fun task to do at the weekend and you can add your own variations to it. Some people like to add dates when making it or add more salt to it.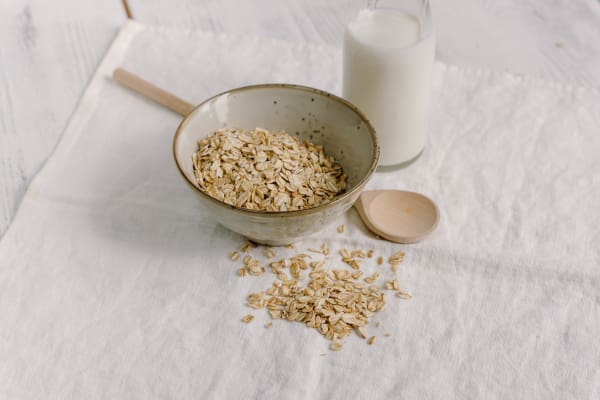 Can I use any type of oats?
Porridge oats do work the best, however you can try using rolled oats to make your homemade milk. The coarser the oat is, the longer it take for them to soak and sieved so porridge oats are best.
My homemade milk is too thin, what can I do?
If your cloth is too thick, this can cause the drink to become thin. This is because more of the mixture is being trapped in the cloth. A muslin cloth is a great type of cloth to use to make sure your milk isn't too thin. As the recipe states, you can add water to thin the milk but there isn't much you can do if it's too thin.
My milk separates when in the fridge, why has this happened?
This is an common occurrence and can happen with almond milk or soya milk. To help with this, simply shake or stir the oat milk before consuming to bring it together again.
Making your own non dairy milk is a great way to start if you are looking to create your own alternative milk. The oat drink is a great addition to tea, coffee, breakfast cereal or even as a drink on its own.
We're sure that this recipe will spark your interest for making your very own homemade alternative milk. It is a great non dairy alternative to cow's milk and is widely used for those unable to consume traditional cow's milk or for anyone who follows a vegan diet.
Oato Oat Milk
If making oat milk is not your thing, then we are pleased to now offer oat milk from Oato which comes in glass reusable bottles. The Oato milk is a creamy milk alternative which is lactose, nut, sugar and soy free. It is made with the freshest British ingredients. It contains no animal products so it is safe to consume if you follow a vegan or plant based diet. Many have said it is the best oat milk and because of the ingredients it is made from. It is also lactose free which makes it the perfect milk alternative as lactose free milk is good for you and offers a suitable alternative.
Oatomilk is made from British ingredients and packed with the right amount of nutrients required. Many say this plant based alternative is one of the best tasting oat milks. Oat milk for lactose intolerant sufferers is the perfect option and gives a wonderful taste to tea and coffee.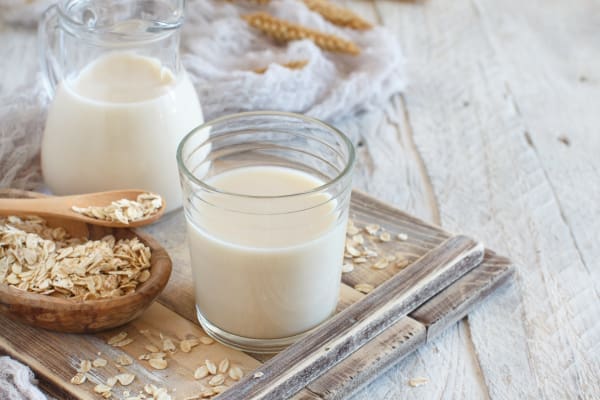 Join thousands of customers and enjoy fresh milk, juice, eggs and alternative milk delivered straight to your doorstep before 7am.
On average, the UK disposes over 33,000 tonnes of milk a year. At McQueen's Dairies, we hate to see our delicious, farm-fresh milk go to waste! So, if you find yourself needing to use up your milk, we've compiled a handy list of 5 simple and delicious recipes to help you use up your leftover milk.
Soup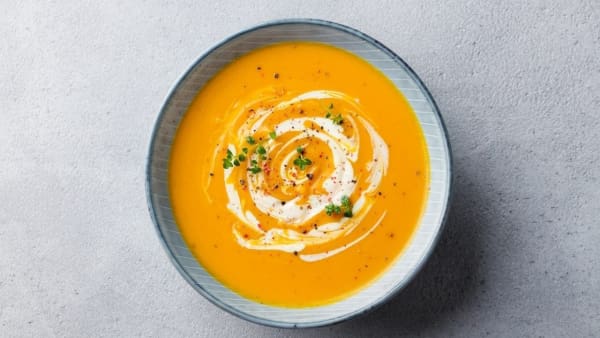 Using leftovers from a meal to turn into soup is a great way to save waste and the same applies to your milk. Milk is a great addition to any kind of soup you are making. Whether it's homemade soup or heating up from a can, adding your McQueens milk to it will give a creamier taste. It's also a great way of sneaking some milk into your kids' diets if they don't usually drink milk. Why not try our delicious Creamy Carrot Soup recipe?
Yoghurt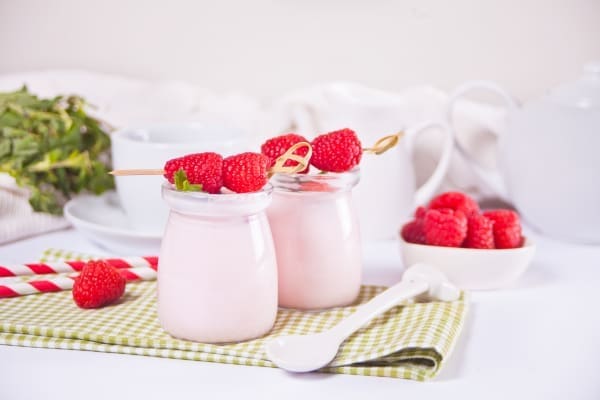 Homemade yoghurt requires very little special equipment and tastes delicious. You can make your yoghurt low fat or full fat by adjusting the type of milk you add to it. It can be a long process to ensure your yoghurt has the perfect taste but we think it's worth it. Swapping out one or 2 ingredients is usually enough to give you all types of flavours. We have created a great recipe for how to make your own.
Smoothies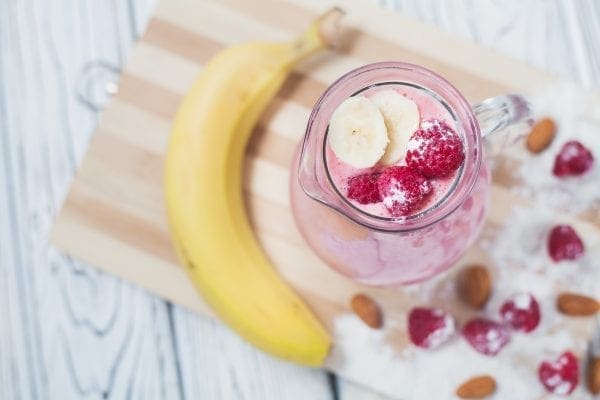 Smoothies are a great, healthy and nutritious way of using your McQueens Dairies milk. You can add the McQueens milk to give a creamier taste or the thicken or thin it up and can make a variation of delicious smoothies using our handy smoothie recipes. You could even swap out the regular McQueens Dairies milk and try Almond milk or Oat milk.
Macaroni Cheese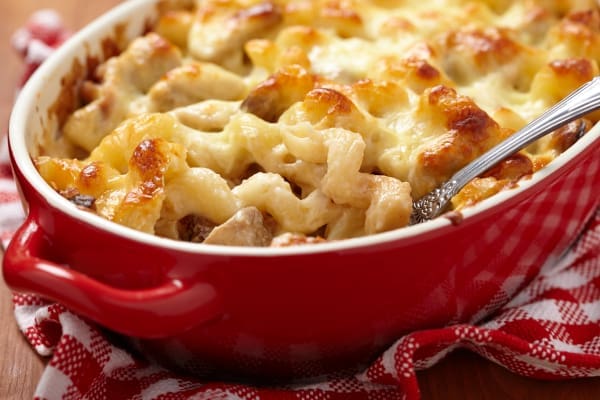 Nothing says comforting and classic like macaroni cheese. Making the delicious creamy sauce with your McQueens Dairies milk will make for a tasty dish. Boiling the macaroni in boiling milk is a great idea if you want a richer and extra creamy mac and cheese dish. Try our macaroni cheese recipe – a McQueen's team favourite!
Pancakes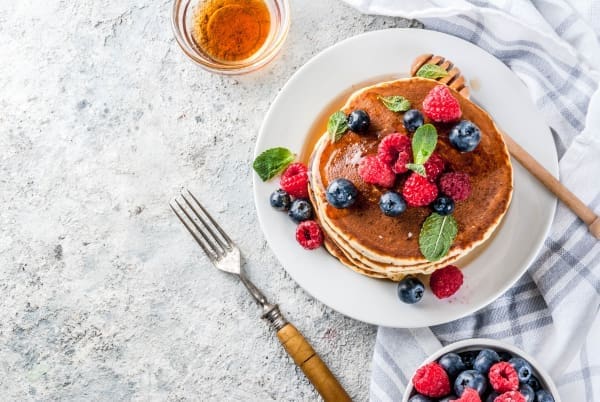 Pancakes aren't just for Pancake Tuesday. Using your milk to make some light and fluffy pancakes is simple and fun to do. Top them with the classic lemon and caster sugar, or add chocolate sauce or maple syrup for the ultimate treat. Do you have pancakes for breakfast, lunch or dinner?
Join thousands of customers and enjoy fresh milk, juice and eggs delivered straight to your doorstep before 7am.