Enjoy the delicious taste of an American style brunch, all made within 10 minutes! Eggs Benedict is a brunch time classic that we are sure you will love to make with your McQueens Dairies eggs.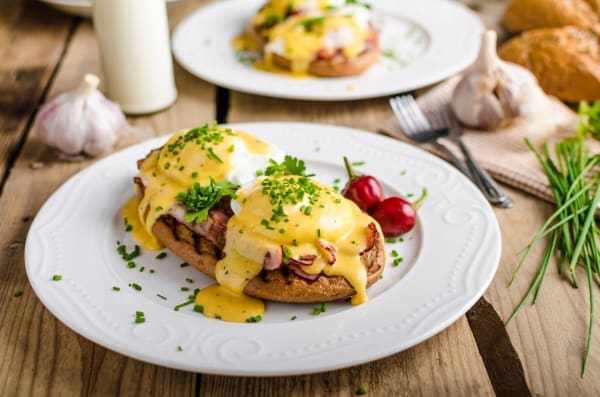 Eggs Benedict
Ingredients
4

large Eggs

2

slices of ham/bacon

Toasted muffins/toast

3

bsp

White wine vinegar

75

grams

Butter, melted

Salt and black pepper to taste
Instructions
To make the sauce: Drop the vinegar in a small pan and simmer until it has reduced by half the amount. Put the vinegar and eggs yolks in a bowl which is heatproof and set it over a pan of gently simmering water. Whisk the yolks until the mixture is a thick consistency. Gradually whisk in the butter until the mixture has thickened and fully combined.

Season with your salt and pepper to taste then remove the bowl from the heat and set to one side.

For the eggs: Pour 5cm/2inches of water in a large frying pan and bring to a gentle simmer. Crack the eggs into the water and simmer for 2-3 mins or until the eggs are poached to ow you prefer.

Place 2 sliced of toasted muffins on a plate and top with the slices of ham or bacon, then place a poached egg on top. Drizzle a little of the sauce you made earlier over each and serve.