Has the Easter Bunny been overly generous this year? This easy Easter Egg Cheesecake recipe is a must-have Easter dessert. Turn your leftover chocolate Easter eggs into rich and creamy cheesecake filled Easter eggs. With a biscuit base and deliciously indulgent cheesecake stuffed inside half a chocolate Easter egg and topped with more easter chocolate. Heavenly!
This super simple Easter cheesecake recipe is perfect to get the kids involved with. Let them customise their cheesecake filled eggs with their favourite Easter treats such as mini eggs or smarties.
It's perfect for serving after Easter dinner and is sure to keep every-bunny happy.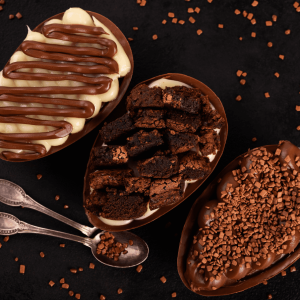 Easy Easter Egg Cheesecake Recipe (No-Bake!)
This easy Easter Egg Cheesecake recipe is a must-have Easter dessert. It's super simple (no-bake!) and perfect to get the kids involved with!
Ingredients
2

Hollow chocolate Easter Eggs

150

grams

Biscuits

(most of your favourite biscuits will work – we love Oreo, Lotus, Biscoff, Digestives etc.)

50

grams

Unsalted butter

(melted)

150

grams

Marscapone

200

grams

Soft cheese

5

tbsp

Icing sugar

(sieved)

200

grams

Double cream

(chilled cream whips better)
Chocolate sauce to drizzle
8

tbsp

Milk

(any milk will work, but whole milk will make it thicker and creamier)

170

grams

Chocolare chips
To serve
Your favourite Easter treats

(such as Mini Eggs, Smarties, Rolos, Chocolate buttons – let your imagination run wild!)
Instructions
STEP 1 – Separating the Easter eggs (without breaking them!)
Carefully run a hot knife along the seam and slowly pry apart. We recommend heating the knife by dipping it into a bowl of hot water.
STEP 2 – Break up the biscuits
Tip your biscuits into a bowl (or a sandwich bag) and use the end of a rolling pin to bash to a fine crumb. Alternatively, whizz the biscuits to a fine crumb in a food processor.

Stir in the melted butter until well combined (slowly add more butter if the mixture is too dry) Carefully spoon the mixture into the Easter egg halves and gently compress using the back of the spoon. Transfer to the fridge and chill until needed.
STEP 3 – The cheesecake filling
Mix the soft cheese, mascarpone, and icing sugar in a medium bowl with a wooden spoon until smooth.

In a separate bowl, beat the double cream to soft peaks using a whisk. An electric whisk is easier, but if whisking by hand, you will need a balloon whisk, a sturdy bowl and elbow grease – it should take no more than 3-5 minutes.

Gently fold the whipped cream into the mascarpone mixture, then carefully spoon the cheesecake filling over the chilled biscuit bases in the Easter eggs.

Carefully level the surfaces with a palette knife or spatula, then chill for at least 2 hours (preferably overnight) until firm and set.
STEP 4 – Make the chocolate sauce
In a small microwave-safe bowl, microwave your milk for 30 seconds, until simmering. Remove from microwave and stir in chocolate until melted and smooth. Leave to cool.
STEP 5 – The fun part – decorating the Easter Egg Cheesecakes
Scatter your cheesecake-filled eggs with your chosen Easter treats, then drizzle with caramel or chocolate sauce.
If you make this no-bake Easter egg cheesecake, let us know what you think. Tag @mcqueensdairies in your photo and add the hashtag #McqueensMakes in your caption.
Enjoy this recipe? We have plenty more tasty recipes for you to enjoy on our blog.