Making homemade yoghurt isn't as difficult or complex as you may think. It does take some time and the key is to ensure good temperature control but after you taste the finished product we think the effort is worth it. The best part is, all you need is 2 simple ingredients.
Homemade Yoghurt
Ingredients
2

Litres

McQueens Dairies Milk

64

g

Plain Yoghurt
Instructions
The first step is to heat up your McQueens Dairies milk. Pour the milk into a large pot on a medium-high heat and warm to just under boiling level. Stir gently to ensure the milk does not stick to the bottom of the pot.

Once your milk has been brought to just below boiling point, reduce the heat and allow it cool until it is warm to the touch.

Gently add the yoghurt to the pot of milk and whisk until the yoghurt is combined with the milk. Once this is done, remove from the heat.

Allow the yoghurt to set for around 4 hours. The longer it sets, the thicker it will be.

Once it has set for a minimum of 4 hours you can transfer to the fridge before enjoying.

Transfering the yoghurt into storage containers will keep your homemade yoghurt fresh for around 2 weeks.
Hints and tips for making homemade yoghurt
Make sure the milk you use for this recipe is whole milk as this will give a richer taste. If you want to make low fat yoghurt, use skimmed milk and opt for a low fat yoghurt when buying.
Getting your milk to the right temperature is important as this will affect the temperature. You can use a thermometer to ensure it reaches 180°F.
Using air-tight jars are the best ways to store your yoghurt to maintain its freshness and keep your yoghurt for longer.
To make different variations of flavours, you can simply blend any fruit of your choice and add this to the milk and yoghurt mix.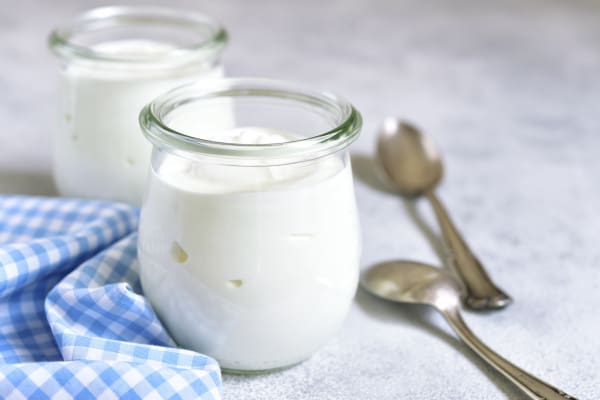 Join thousands of customers and enjoy fresh milk, juice and eggs delivered straight to your doorstep before 7am.