Everybody loves macaroni cheese. It's a classic and makes for the ultimate comfort food. We are sure you will love this tasty and easy to make macaroni cheese recipe, made with your McQueens Dairies milk.
This is a perfect dish for all the family and any leftovers will keep for up to 1 week and can be reheated in the microwave. The dish isn't going to win any prizes in the nutrition department, but you can balance it with a salad if you like. 
Easy, creamy macaroni cheese
Ingredients
12

ounces

Macaroni

3

tbsp

Unsalted butter

3

tbsp

Flour

500ml

ml

McQueens Dairies milk

1/2

tsp

Garlic powder

500

g

Cheddar cheese

Salt and pepper
Instructions
Add your macaroni to a pot of boiling salted water, boil until soft and ready. Then drain the macaroni and set aside.

In a large pan or bowl, melt butter over a medium to high heat. Stir in the flour and very gradually whisk in your McQueens Dairies milk until smooth and creamy. Then you will add in the garlic powder.

Stir in cheese until completely melted and fully incorporated into the mix. Add a little more milk if needed to thin the sauce if it is too thick for your liking. Season with salt and pepper.

Stir in the boiled macaroni and then enjoy your creamy macaroni and cheese dish.
To make a vegan mac and cheese, simply replace the cheese with vegan cheese and the milk with a milk alternative of your choice. We would recommend coconut milk or almond milk as they don't have an overpowering taste. 
Hints and tips for making the perfect creamy Macaroni Cheese
Adding some salt into your water will help to ensure it's well seasoned so we recommend doing this. 
Include a dash of cream to your pasta. This will give your macaroni cheese a richer taste that is just as silky as it is creamy.  
Don't go easy on the cheese. It's better to have more than to have less so add more than you would usually to make for a real cheesy dish. 
Use your McQueens Dairies milk to your advantage. You can use the milk to adjust the thickness of the sauce. The more milk you add, the less thick it will become and vice versa. If you have made extra and want to keep for another day, when you go to heat it back up, add some milk to help cream it all together. We recommend using whole milk but you can also use semi skimmed or skimmed.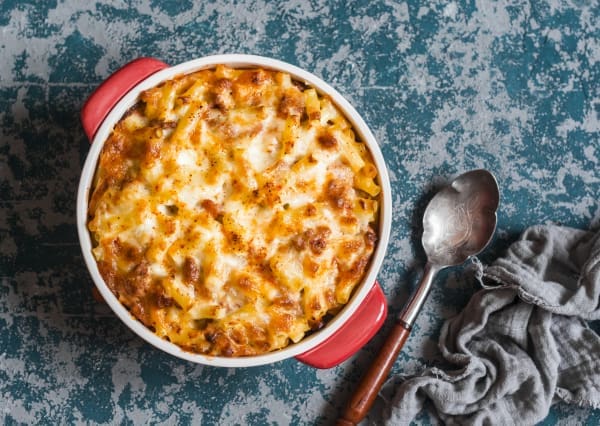 Join thousands of happy McQueens Dairies customers and enjoy fresh daily milk delivered straight to your doorstep before 7am with our local milkmen.  Add on alternative milk, yoghurt, juice or just choose a milk and eggs delivery. Place your order in our online shop.