Local Milk Delivery Near Me | Milkman Near Me | McQueens Doorstep Milk Delivery | Modern Milkman
The days of having your milk delivered by the local milkman may be a distant memory for some but for others, it is a newfound joy.
The decline in local milkman deliveries
Milk delivery seen a decline towards the end of the 20th century. The job of a milkman was at risk of becoming a memory. Many relied on a milk delivery as few houses had fridges to keep the milk fresh. Therefore a local milkman was crucial to everyday life in the 20th century. However, as fridges were becoming more popular, the need for a local milkman started to decline. With supermarkets now offering bread, milk, meat and other essentials, it made sense for people to pick the milk up at the supermarket with their shopping. A drastic decline in the milk delivery industry meant milkmen were out of jobs and runs were soon forgotten about.
Modern Milk Delivery in the 21st century
There is no doubt that the need for a modern milk delivery in 2020 skyrocketed when people were ordered to 'stay at home' when the Coronavirus pandemic hit in March 2020. Local milkmen had started to make a comeback in their numbers when David Attenborough's Blue Planet was aired. This was highlighting the effects of single use plastics had on our environment. However, the more recent surge has been due to the Coronavirus pandemic that had people fearful to leave their homes to go to the shops for essential items, such as milk and eggs. More people went on the lookout for a reliable modern milkman delivery service that could deliver essentials straight to their doorsteps, contact free. The fact that the modern milkmen delivered much more than just milk was a relief for many. Local milkmen were in high demand at the peak of the pandemic.
With this demand, came the need to recruit more modern local milkmen to our delivery service. This included modern milkmen who had done the job many years ago returning to the job or people had had unfortunately lost their job due to the virus becoming a modern milkman/woman. Taxi drivers, restaurant staff and airport staff were among those who were recruited to become a local milkman/woman.
Local Milkmen/women during Covid-19
The work of local milkmen and women during the pandemic has not went unnoticed. Many would start work early and finish later to ensure their rounds were complete, and customers did not go without. Customer's children would leave notes of appreciation out for the modern milkman or draw rainbows in the window for key workers. The small acts of kindness are what kept many of our staff going. Knowing they were providing a great service in an extremely difficult time. The demand for a modern milkman milk delivery did not stop once lockdown was slowly eased. Many people had forgotten how beneficial having a local milkman was and continued the with service. Post lockdown, many have said they will continue with the service as it brings back memories of having their milk delivered many years ago.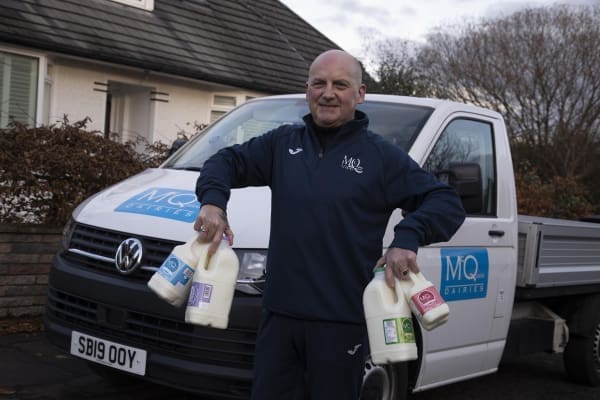 Join thousands of happy McQueens Dairies customers and enjoy fresh daily milk delivered straight to your doorstep before 7am with our local milkmen.  Add on alternative milk, yoghurt, juice or just choose a milk and eggs delivery. Sign up with our modern milkman delivery service today and place your order in our online shop.