McQueens Dairies are proud to announce the official opening of our new distribution depot in Northampton and delighted to created 16 new local jobs as demand for doorstep a milk delivery in Northampton grows.
The new depot in St James Mill Business Park will serve customers living in Northampton, Milton Keynes, Bedford, Wellingborough and Rugby. We will initially employ 16 staff with that number expected to increase significantly during 2021. This is due to the increased demand for a milk delivery. It comes as part of our expansion plan that will see new depots opening throughout the U.K to serve demand and satisfy the need for a milk delivery.
Milk Delivery Northampton
In addition to the milk delivery service in Northampton, we also deliver alternative milk, fruit juice, free-range eggs and yoghurts. You can order using the website. As a customer, you have direct control of your orders and are able to book holidays and pay online. David Rodger, depot manager of McQueens Dairies in Northampton said:
"Our new distribution centre is ideally located to deliver fresh milk direct to customers' doorsteps in Northampton and nearby towns. This includes Rugby, Wellingborough, Bedford, and south to Milton Keynes. We have already employed 16 new staff and expect that to increase significantly before the end of the year. This is thanks to the increase in demand for a milk delivery in Northampton."
McQueens Dairies have distribution depots in Sheffield, Mansfield, Bradford, Warrington, Preston, Stockton on Tees, Carlisle, Glasgow, Edinburgh, East Kilbride, Kirkcaldy and Galashiels. This is thanks to our customers who continue to support doorstep milk deliveries and has allowed us to grow. Ruairidh McQueen, director of McQueens Dairies added:
"Over the last 25 years customers have made our business the success it is. We are delighted to have opened our latest depot. We are looking forward to delivering fresh milk to doorsteps in Northampton and neighbouring towns."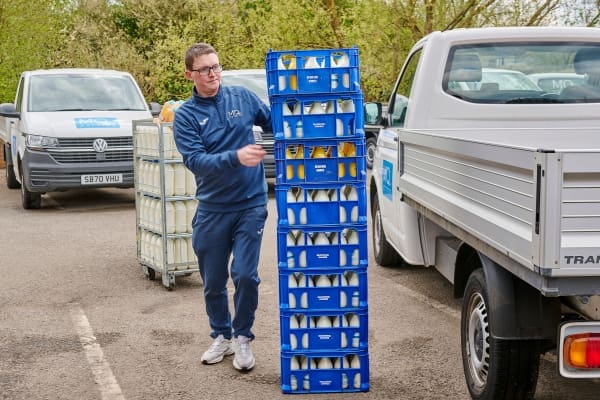 Join thousands of customers and enjoy fresh milk, juice and eggs delivered straight to your doorstep before 7am.