Increased demand for milk deliveries at McQueens Dairies in East Kilbride
Our brand new 6.5-acre dairy in East Kilbride, Scotland will see McQueens Dairies milk production capacity more than double. The new McQueens dairy in East Kilbride includes the latest dairy technology including new refrigeration plant and pasteurising equipment, new filler lines and a significantly enhanced milk glass bottling line.
McQueens Dairies have seen a huge increase in demand for milk deliveries in East Kilbride and throughout the UK. Chairman Mick McQueen said: "Investing in a new, large dairy is at the heart of the business's growth plans. Our production capacity has now more than doubled. This allows us to confidently meet increasing customer demand and to continue to invest in other parts of the business such as our distribution depot network, our fleet, and of course in our staff."
Our doorstep milk delivery business was growing significantly before the coronavirus pandemic hit the country. However, we have witnessed significantly faster growth as people demanded safer and reliable food delivery services such as a milkman delivery service"
"We have seen a clear change in consumer buying habits in recent months. We are confident that demand for safe and reliable doorstep milk deliveries will continue.
"It is also very pleasing to be able to buy more raw milk from First Milk- a dairy farmer owned co-operative that has been supplying us for many years."
Ambitious Expansion
First Milk commercial director Fraser Brown said: "It is great to see McQueens Dairies opening its new dairy in East Kilbride and continuing its ambitious expansion. We have been supplying McQueens Dairies with fresh raw milk direct from our dairy farmer members for many years. Our farmers are committed to sustainable dairy production and we look forward to continuing to work with McQueens Dairies in the future to help them bring great tasting dairy to their milk delivery customers across Scotland and the north of England."
East Kilbride Dairy
The Nerston plant was the perfect location for the new McQueens dairy. This was previously the site for both Muller and Wiseman's Dairies.  The German based company took over the East Kilbride headquartered Robert Wiseman Dairies in 2012 in a £279 million deal. In 2016, Muller announced it was closing its Aberdeen and East Kilbride dairies, with a loss of around 225 jobs.  This devastating news for Wisemans Milk Delivery hit the East Kilbride area in June of 2016 and the dairy was later closed in 2018.  
Muller said both dairies had been operating "well below full utilisation" and therefore had decided to close the facilities. This was to allow Muller to expand and introduce new products to their current existing product line. The East Kilbride Dairy could no longer facilitate these plans. Since then, the wisemans milk delivery dairy in East Kilbride has been lying empty.
Over the course of the expansion, McQueens Dairies plans to hire over 100 members of staff to help with the new demand for contact free milk deliveries in East Kilbride and throughout the UK. The new roles include Milkmen Delivery Jobs, Customer service Roles, Dairy operatives, Field Sales Representatives and Office and Admin staff.
Job Boost for East Kilbride
Many local MP's have said it is a great boost to East Kilbride jobs. MSP Linda Fabiani said: "This is certainly good news for East Kilbride. Time after time companies are recognising East Kilbride as an excellent business location." MSP Graham Simpson also said: "It is great to have this investment in the town and to see the company making use of an empty building."
.McQueens Dairies are proud to announce the new opportunities in the East Kilbride area and beyond with the expansion plans. We are delighted to be able to create so many job opportunities in the area with the new state of the art dairy.
You can check out our latest vacancies on our careers page here.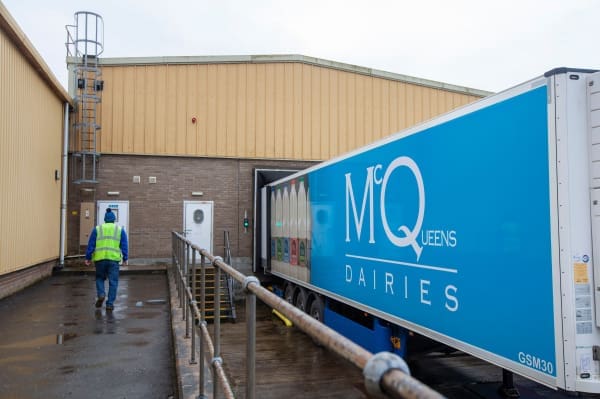 Join thousands of customers and enjoy fresh milk, juice and eggs delivered straight to your doorstep before 7am.