There are many alternatives to tradition cow's milk that are becoming increasingly popular in today's society. When we started our very first milk round in 1995, cow's milk was the only product we delivered. Fast forward to 2021, we are now deliver milk, juice, eggs and a range of non dairy milk alternatives including Oato. It is one of the best milk alternatives for its ingredients and taste. The protein it contains also make its a great high protein milk alternative.
We have recently teamed up with Oato to provide customers with a quality oat milk in reusable glass bottles.
Calum McQueen, Commercial Director said:
"We've seen demand for milk supplied in reusable glass bottles, and for oat milk, increasing. We're pleased to be working with Oato to supply customers with bottled oat milk. We will now be delivering Oato's oat milk from all twelve of our depots in Scotland and the north of England, directly to customers' doorsteps."
Carl Hopwood, founder of Oato said:
"We're delighted to supply Oato through McQueens Dairies. We're aligned with McQueens Dairies mission to delight customers everyday whilst reducing plastic waste. We are excited to hear feedback from more households waking up in Scotland and Northern England to a UK made dairy alternative in reusable glass , and delivered to their doorsteps before 7am. The UK grows an abundance of oats and we're proud Oato is a sustainable dairy alternative made with 100% British oats."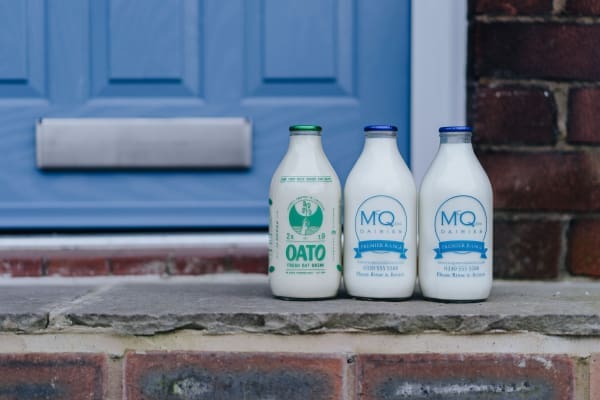 Oato Milk Delivery
Oato is a creamy 'non-dairy' alternative milk product, which is lactose, nut, sugar and soy free. It is suitable for vegetarian and vegan diets. Having your oat milk delivered in glass bottles means you are helping to bring back a tradition of the milkman delivery. Whilst moving forward with the times and doing your bit for the environment. Each bottle is able to be a use on average 25 times and then is recycled into new glass. This makes it one of the most sustainable milk alternative products on the market. We are dedicated to helping customers make small changes that have an impact on our environment through our glass bottles. Many say that Oato's oat milk is the best alternative for tea and coffee because of the taste and how it froths up.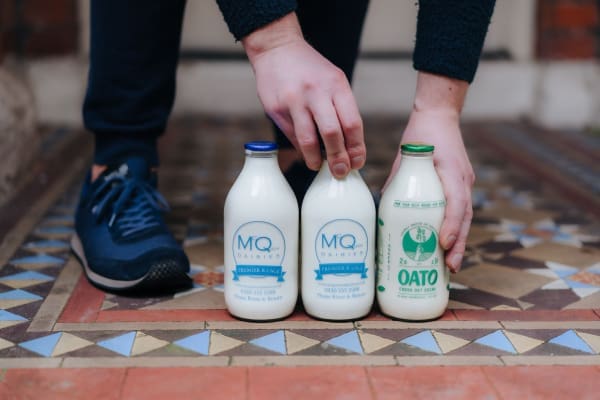 Join thousands of customers and enjoy fresh milk, juice and eggs delivered straight to your doorstep before 7am.