Oat Milk in Glass Bottles
16th February 2021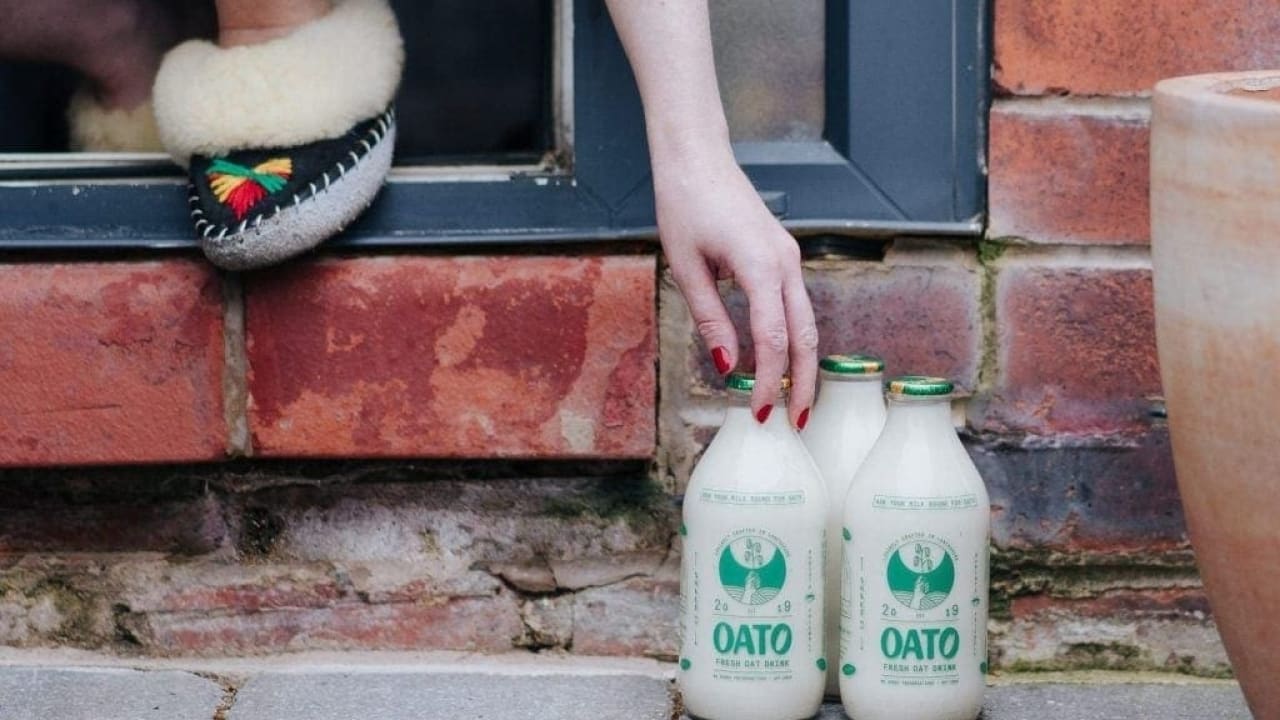 McQueens Dairies are pleased to introduce Oato oat milk in glass bottles to our range of alternative milk. Delivered along with your milk, juice and eggs, our oat milk makes a perfect addition to your tea, coffee or cereal.
What is Oato oat milk?
Oato is a creamy 'non-dairy' plant based milk alternative which is lactose, nut, sugar and soy free. It is made with the freshest British ingredients. It contains no animal products so it is safe to consume if you follow a vegan or plant based diet.
Having your oat milk delivered in glass bottles means you are helping to bring back a tradition of the milkman delivery whilst moving forward with the times and doing your bit for the environment. Each bottle is used on average 25 times and then is recycled into new glass. We are dedicated to helping customers make small changes that have a huge impact on our environment through our glass reusable milk bottles.
It's important to know what goes into your delicious plant based oat milk.
Full Ingredients List
Water, oats, rapeseed oil, calcium carbonate, dipotassium phosphate (acidity regulator), salt and vitamins (D3, B2, B12, and potassium iodide).
Allergen Info
Our oats contain gluten due to the way that they are processed and our bottling facility also processes milk products.
Nutritional Information Per 100ml
Fat 3.0g of which saturated 0.3g,
Carbohydrates 6.5g of which sugars 4.0g,
Fibre 0.9g,
Protein 1.0g,
Salt 0.10g
Calcium 120mg (15% recommended daily intake)
*Oato oat milk is now fortified with the additional vitamins – B12, B2, D3 (vegan sourced) and Iodine.
To confirm nutritional information we are doing laboratory tests but our target per 100ml of Oato is as follows: B2 0.21 mg (15% RDA), Vitamin B12 0,38 μg (15% RDA), Vitamin D 1.50 μg (30% RDA), Iodine, 22.5 μg (15% RDA).
Oat Milk Delivery
Why not add Oato oat milk in glass bottles to your regular McQueens Dairies milk delivery to try? The traditional bottle is also amazing to drink from and looks beautiful perched on your kitchen table or on your doorstep. Sign up to our milk delivery service and enjoy milk delivered in glass bottles to your doorstep before 7am. Delivery is free and you can choose one or two deliveries per week at checkout. Simply leave out your empty glass bottles on your doorstep for our milkmen to replace with your new ones.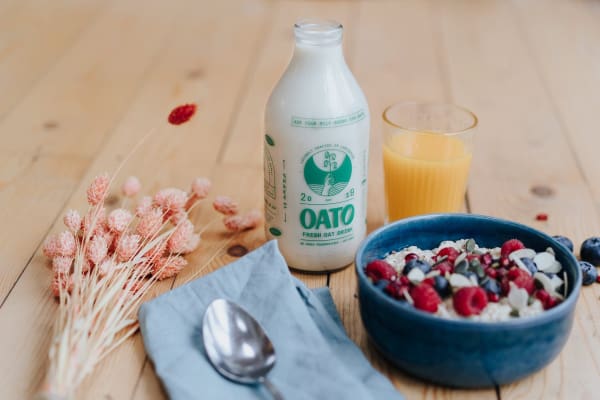 Join thousands of customers and enjoy fresh milk, juice and eggs delivered straight to your doorstep before 7am.