When life gets busy, we often look for easy meals that can be made quickly. If you are running out the house but need a tasty meal idea, this recipe for an omelette which can be done in less than 5 minutes!
When you're looking to create the perfect tasty omelette, you will have to consider the size of the pan. Too large a pan could cause the omelette to spread too thinly which is more prone to overcooking, while a small pan could make the omelette too spongy and thick to fold.
Removing your eggs from the fridge a few hours prior to making your omelette will help to form your omelette quicker once the eggs are in the pan.
Preparing all your fillings and ingredients first will help to make the process a lot quicker and easy to make before work. We are sure that you will love this easy to follow omelette recipe.
Quick and Easy Omelette
Ingredients
2

Eggs

Pinch of Salt

1

tbsp

Cold water

Dash of oil
Instructions
Take your eggs and crack them into a bowl –don't put them directly into the pan as you need to mix them first!

Add a teaspoon of water and a pinch of salt andpepper before whisking until the white and the yolk are whisked together.

Add oil to the pan so that the mixture doesn't stick and bring your pan to a high heat.

Pour in your mixture and cook on a high heat for two minutes, you can move your pan around to ensure the mixture takes the circular shape.

As the mix beings to come together, use a spatula to push the set egg towards the omelette centre

Cook the set omelette for another minute and loosen the edges with a spatula and fold the omelette in half.

Once out of the pan, serve immediately and enjoy your tasty omelette.
You can add any filling to your omelette such as tomato, cheese, onion, peppers or bacon. We are sure that you will love this easy recipe and you can even make this the night before work and reheat it at lunch time to make the perfect lunch snack.
McQueens Dairies Free Range Eggs
Why not try making your own omelette with McQueens Dairies Delicious Free Range Eggs? Our free range eggs can be added to your weekly deliveries in our online shop.
Remember to tag us in your quick and easy omelettes on Facebook or on Instagram using the hashtag #mcqueensdairies and we will re-share your delicious creations!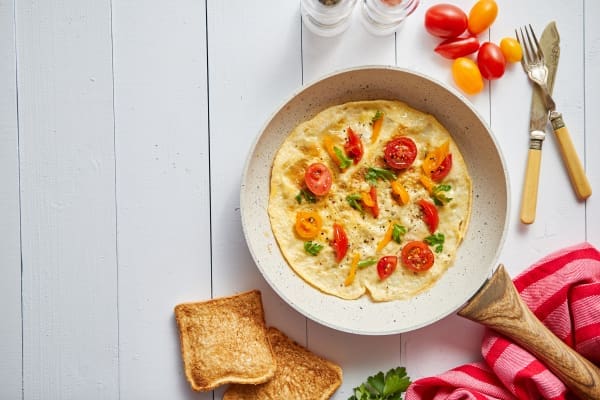 Join thousands of happy McQueens Dairies customers and enjoy fresh daily milk delivered straight to your doorstep before 7am with our local milkmen. Add on alternative milk, yoghurt, juice or just choose a milk and eggs delivery. Place your order in our online shop.