Free milk for nurseries and childminders
The importance of drinking milk
Milk is an important part of every child's diet to help them grow and develop. It is high in calcium as well as essential vitamins and minerals. These are essential for growing healthy bones and teeth in children. That is why at McQueens Dairies we offer childminders and nurseries 1/3 of free milk every day. Read more about this scheme below.
The Nursery Milk Scheme – NMRU
The nursery milk scheme is operated by the nursery milk reimbursement unit on behalf of the department on health. This enables children under the age of 5 who attend approved day care facilities to receive 1/3 of milk every day. To take part in the scheme, you must be approved by the NMRU. You must also apply with McQueens Dairies first by filling out the form before applying to the NMRU. This scheme ensures that children under 5 are getting some form of calcium into their diet each day.
At McQueens Dairies, the type of milk that we supply childminders and nurseries with is our whole milk or our semi- skimmed milk. You can view our full product range here.
How to apply
If you are a childminder or nursery manager, you can apply to receive free milk to your place of work on our website here. Our nursery manager, Lynne Miller will then give you a call to discuss your requirements and the delivery days. The registration process does require you to prove your suitability by providing evidence of your ofsted registration.
Once signed up, your milk will be delivered to the chosen location for the children to enjoy. The NMRU website can be found here if you require any further information.
Benefits to your children of drinking milk
Milk is said to be one of the best and healthiest drinks to give to children as they are growing and developing. It can help with their teeth, bones and overall health.
Healthy bones – Calcium is an essential mineral for good bone health. It is important for young children to drink an adequate amount of milk every day to help develop their bones as they grow. The more milk children drink as a child, the better their bone health will be in later life.
Healthy teeth – As children start to develop their first set of teeth, the recommended 'safe' drinks for children are milk and water. Milk is great for helping to strengthen the enamel of the tooth. This helps to prevent against cavities as it has calcium in it. Calcium and phosphorus are minerals which helps to make harder and repair the enamel. It also helps to keep the jaw bone strong and healthy.
Hydration – Milk is known as a hydrator, which is why it's a really good idea to give your child some milk after exercising or playing. Children can become easily dehydrated during exercise so to ensure they get enough fluids, milk is a great option to give them to rehydrate them. Milk and water are a more effective way to keep them hydrated and its healthier too!
Overall health – A study in 2018 found that those who had a high intake of dairy products, decreased the chances of having heart disease or a stroke. It has also been proven to lower blood pressure considerably. Milk is also thought to help with sleep and relaxation.
McQueens Dairies supply hundreds of childminders and nurseries that are OFSTED registered with fresh, free milk every week.
Apply
If you think your children in your care or nursery, would benefit from this milk scheme with McQueens Dairies, then please use this link to fill out an enquiry form and our nursery manager Lynne will be in touch.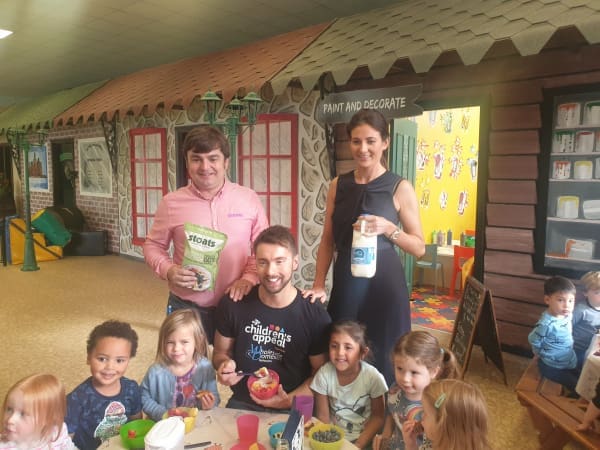 Join thousands of customers and enjoy fresh milk, juice and eggs delivered straight to your doorstep before 7am.