Kate Garraway recently left Good Morning Britain viewers in hysterics when she made an accidental innuendo while commending her milkman Mick for delivering her milk throughout the recent coronavirus pandemic.
She indicated that Mick had been leaving notes on her doorstep when delivering, asking her if she would like any extras. She said: 'Mick, my milkman, who has just been amazing. He has absolutely just kept me going. He'll leave me a little note saying "do you need anything extra other than the milk?"
After a split second pause, Ben burst out laughing as did presenters Alex Beresford and Richard Arnold. When Kate had quickly realised what she had said, she began to laugh, putting her head in her hands in embarrassment. Co-presenter Ben shepherd teased if Mick had seen Kate in her dressing gown when going to collect the milk to which Kate replied "And a shower cap… Mick, thank you. Shall we move on as I've got myself in trouble. Even I didn't see that one coming" before moving on to the next item on the show.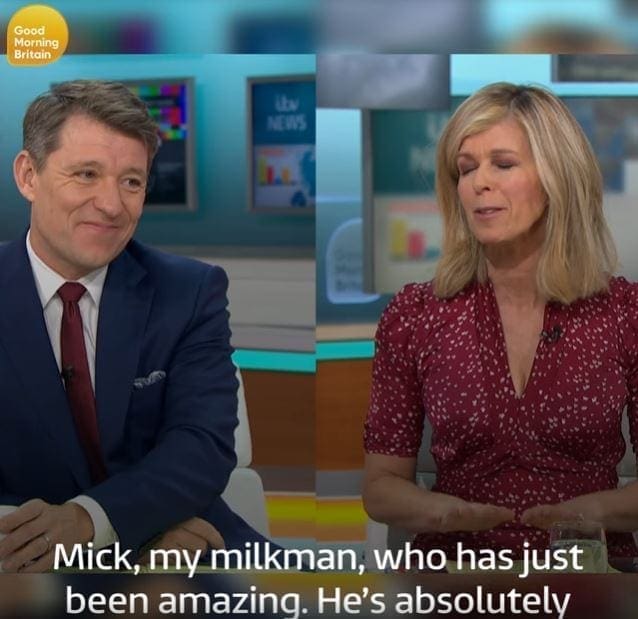 Mick the milkman was soon trending at the number 1 position on Twitter with viewers tweeting of their appreciation of key workers like Mick throughout the Covid-19 pandemic. Later on in the show, Kate joked "Oh God I hope his family weren't watching. He's going to get back from his round and they'll say "what the heck has been going on?"' One user responded on Twitter with "Very funny, but joking aside this milkman should be recognised for his caring nature". Another wrote "It's people like Mick who have kept the country going in the last year. We should show more appreciation to the overlooked key workers like milkmen and postmen". It was said that Mick seen the funny side to Kate's slip-up and joined in on the hilarity. He is reported to still be delivering to her and her family.
Milk Delivery
The Coronavirus pandemic has seen a significant surge in the demand for a milk delivery in the UK. McQueens Dairies are pleased to have increased the number of milkmen significantly in our 9 depots across Scotland and England. More residents are choosing to have their milk delivered rather than venturing out to the shops. The lockdowns that the country has faced since March last year has had an impact on consumers' habits. Our existing customers are telling us they like the convenience of safe and reliable milk delivery. Our customers make our business the success it is, and we look forward to continuing to serve them. We now employ 700 staff nationwide in our new multi-million-pound dairy and network of distribution depots. We appreciate all our key workers that have helped to get us through this pandemic.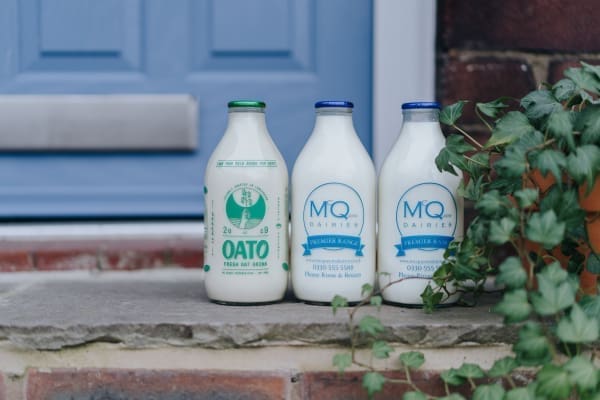 Join thousands of customers and enjoy fresh milk, juice and eggs delivered straight to your doorstep before 7am.