Here at McQueens dairies we deliver milk to not only doorsteps but also businesses throughout the UK. We also offer a regula office milk delivery too.
One of our customer's is Hotel Chocolat. Hotel Chocolat is a British chocolatier and cocoa grower. They have over 150 chocolate shops, an online shop, cafe's, restaurants and even a cocoa estate hotel.
Whether you're looking for boxed chocolates, luxury gifts, or giant chocolate slabs for birthdays, anniversaries, celebrations, or even apologies – you'll find it there. Hotel Chocolat also recently featured on a TV Documentary showing behind the scenes of inside Britain's biggest independent chocolate maker.
Hotel Chocolat use our milk and cream to make coffees and the most delicious cacao whip for hot chocolate and many more of their delicious products.
Every workplace needs fresh milk. We provide a regular office milk delivery service saving you time and ensure you never miss that cup of tea again.  We can also supply milk in bulk and wholesale. Get in touch with us for a quote and one of the team can get back to you.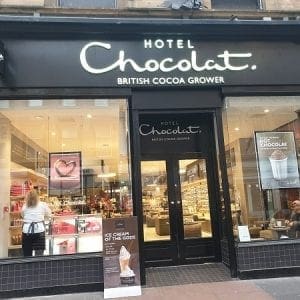 Join thousands of customers and enjoy fresh milk, juice and eggs delivered straight to your doorstep before 7am.