Get creative with our baked eggs recipe with a combination of delicious flavours.
Baked Eggs
Ingredients
200

g

Cherry Tomatoes

Quarter of a red pepper

10

ml

Olive Oil

Black Pepper

50

g

Parmesan Cheese

Half a Garlic Clove

2

Large

McQueens Dairies Free Range Eggs

Handful of Basil
Instructions
First, preheat your oven to 200C. Get your cherry tomatoes and cut in half. Chop the pepper into small pieces. Place them into your frying pan.

Next, place on a medium heat. While the tomatoes and pepper are cooking, chop the basil, grate the cheese and mince the garlic clove.

Remove the frying pan from the heat. Add in add in the oil, black pepper, basil, cheese and garlic.

With a spoon, make 2 dips for your eggs. Crack your McQueens Dairies eggs into the dips. Then place your pan into the oven for around 10 minutes. It is important to keep the eggs runny.

Finally, remove from the oven, add some more cheese on top and serve.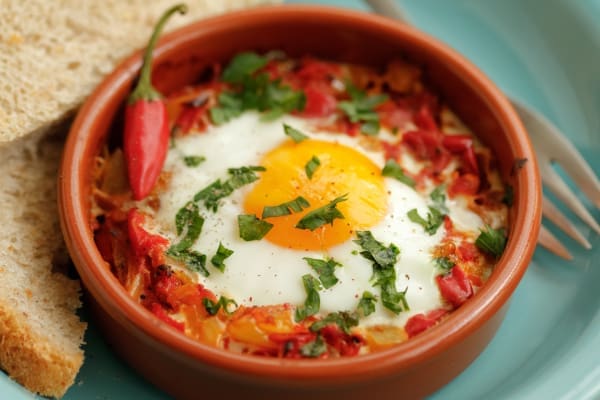 Join thousands of customers and enjoy fresh milk, juice and eggs delivered straight to your doorstep before 7am.