McQueens Dairies are pleased to now offer oat milk in glass bottles from Oato. Oato are passionate about providing milk alternatives that are zero-waste and revives the tradition of milk in traditional glass bottles. Because of this revival, more people are becoming more aware of milk alternatives and are therefore becoming increasingly popular.
Where did Oato begin?
Oato has been created to provide a fresh oat drink that is made with UK ingredients and delivered in glass reusable bottles. Carl Hopwood, the founder of Oato milk, wanted to create a British zero-waste dairy alternative to traditional cows milk. With the increasing demand for a milk delivery, they seen the opportunity to support existing delivery businesses to diversify whilst providing a sustainable and plastic free product. Many have said it is the best oat milk and because of the ingredients it is made from. It is also lactose free which makes it the perfect milk alternative as lactose free milk is good for you and offers a suitable alternative. Lactose free milk is good as it has the same nutritional value as cow's fresh milk and is high in protein.
Oato oat milk have 2 important manifesto's that they believe in. They are:
"To minimise single use plastics and environmental impact in producing and delivering a range of quality oat based dairy substitutes"
and
"To source our ingredients from within the UK wherever possible to support British farming, industry and business to move to a plant-based future."
By Oatomilk not delivering the oat milk themselves, this means they are saving resources and supporting businesses at the same time. With Chris' background in chemistry and business and an even stronger interest in the sustainability of the environment, Oato was created.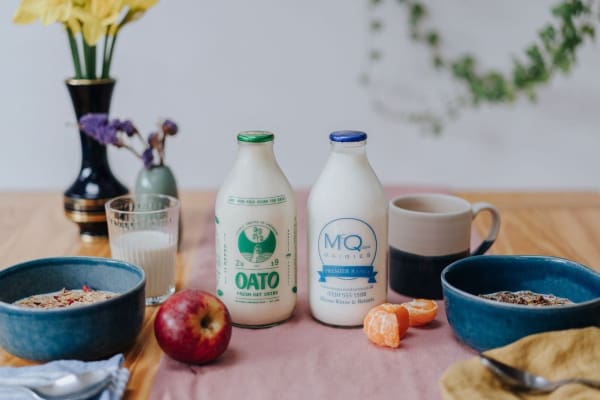 What is Oato?
It is a creamy non-dairy milk alternative to traditional cow's fresh milk, which is lactose, nut, sugar and soy free. It is naturally sweetened by the oats and nothing is added to sweeten it. No animal products are used and it is suitable for vegan diets. The oats are a low impact crop and are sourced from the UK only, making it one of the most sustainable milk alternatives. It is great with cereal and is one of the best milk alternatives for tea and coffee. The oats contain gluten due to the way that they are processed.
The ingredients of Oato include: water, oats, rapeseed oil, calcium carbonate, dipotassium phosphate (acidity regulator), salt and vitamins (D3, B2, B12, and potassium iodide). It is a high protein milk alternative and is great for consuming either straight from the bottle or in tea or coffee.
The nutritional value is:
Fat 3.0g of which saturated 0.3g,
Carbohydrates 6.5g of which sugars 4.0g,
Fibre 0.9g,
Protein 1.0g,
Salt 0.10g
Calcium – 120mg (15% RDI*)
Vitamin B2 / Riboflavin – 0.21 mg (15% RDI*)
Vitamin D (vegan) – 1.5 μg (30% RDI*)
Iodine**
The oat milk is Fortified with calcium, B2, B12, D and iodine. Therefore, it means you can still intake and benefit from key nutrients important for diet. Before fully launching their delicious oat milk, Oato tried and tested every bottle they made to ensure they had the very best oat milk product on the market. The distinctive green and gold foil lid makes it easily identifiable from your other milk products.
Bringing back a well-loved tradition
The demand for a milk delivery in the glass reusable bottles was once a forgotten memory. However more recently the demand for a milk delivery has surged through the awareness of the effects plastic can have on our environment. The glass pint has been an iconic symbol of the small British business and dedicated delivery service. By using the pint bottle we're bringing back a tradition whilst moving forward with the times. The glass bottles are used at least 25 times before being recycled which means a reduction in plastic waste. As a result of this, the glass is then recycled and reused.
Oato Milk Delivery
Why not add Oato oat milk in glass bottles to your regular McQueens Dairies milk delivery to try? The oat milk is good for people who are lactose intolerant and many of our customers say it is one of the best tasting oat milks to add to their coffees as it froths up well. . We also offer various other milk alternative products to be delivered to your door. Sign up to our milk delivery service and enjoy milk delivered in glass bottles to your doorstep before 7am. Delivery is free and you can choose one or two deliveries per week at checkout. Simply leave out your empty glass bottles on your doorstep for our milkmen/women to replace with your new ones.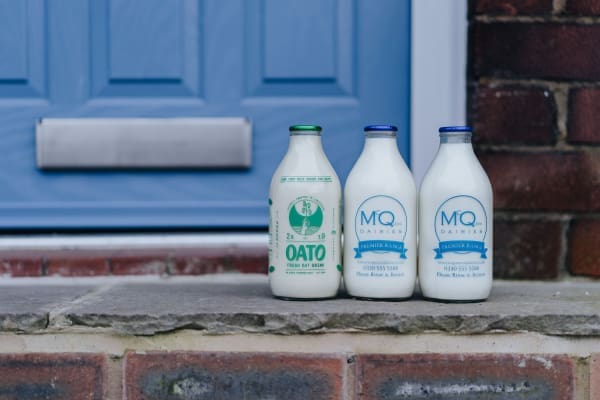 Join thousands of customers and enjoy fresh milk, juice, eggs and alternative milk delivered straight to your doorstep before 7am.