Hearing the clink of the glass bottles was one of the familiar sounds you would hear in the morning as your milk delivery was placed on the doorstep.
For years, milk delivery was a staple in everyday life. People often looked forward to meeting their milkman as he did his rounds. The job of a milkman was one of the more popular ones in the 70's, as this was for some people, the only way of receiving goods. Many people enjoyed this method of having their milk delivered as it was convenient and they enjoyed the tradition.
The Decline in Milk Delivery
However, when supermarkets started to sell milk in plastic cartons in the 90's, the demand for milk delivery declined. The job of a milkman was soon a forgotten one. People took to picking up their milk at the supermarket along with their weekly shopping and the excitement of having milk delivered quickly wore off. By 2016, it was estimated that milkmen were only delivering to around 3% of the nation. This meant that the job of a milkman almost became non-existent as fewer and fewer people were requiring the service from when milk delivery first started in 1785.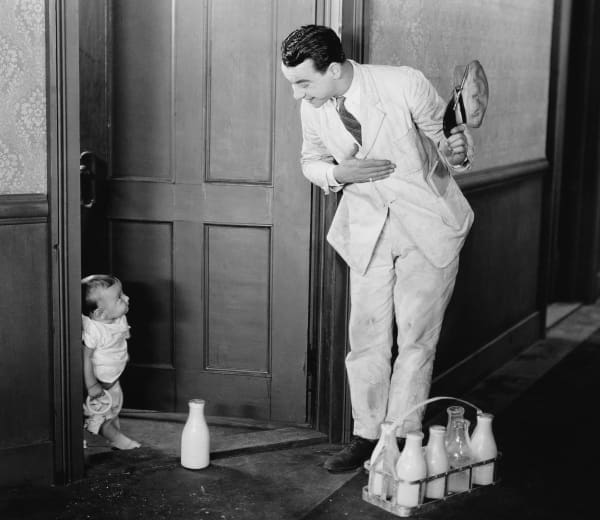 The re-surge in the milkman
In around 2017 and even more so in 2020, the need for a milkman started to generate interest. People were becoming aware of the benefits of having their milk delivered and started to seek for this service.
It must be said that without programmes such as 'War on Plastic' or David Attenborough's 'Blue Planet', the awareness of the impact plastic is having on our environment would have perhaps gone unnoticed.
Programmes like these highlighted the harsh effects plastic waste is having on our planet. It also highlighted the potential it has if we continue to dispose of plastic, the way we did previously. But not making a conscious effort to recycle, would have detrimental effects on our planet. It would not be an immediate impact; it may take decades but eventually it would all go to landfill.
By "Recycling a single glass bottle it will save enough energy to power a laptop for half an hour". – https://www.recyclingbins.co.uk/recycling-facts/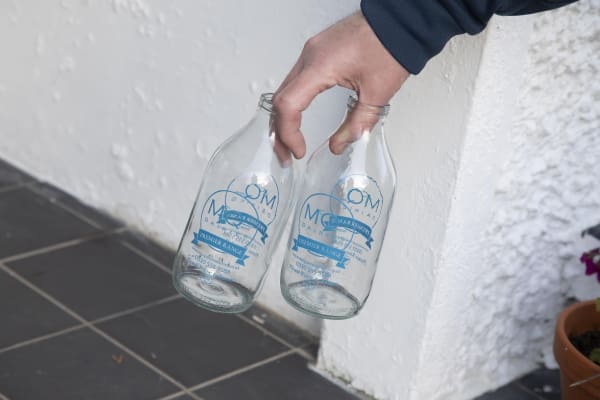 The benefits of a milk delivery in 2020
It's goes without saying, that by reusing glass bottles, you are helping to reduce the amount of plastic going to waste. However, there are many other benefits of a milk delivery in 2020.
You don't have to queue for the shops to get you milk, juice and eggs. With the coronavirus pandemic putting a stop to normal everyday life, queueing has become a part of the 'new normal'. By having your milkman delivering your milk, juice and eggs, you can stay indoors and queue for the supermarket.
It saves you time in the morning. By having a milk delivery from McQueens Dairies, we will deliver your milk, juice and eggs by 7am. This means one less thing to worry about in the morning.
You can manage your account online. Amending your order or pausing your delivery has never been easier. You can log into the customer portal and amend your order as required, manage payments and even pause your delivery if you're going away.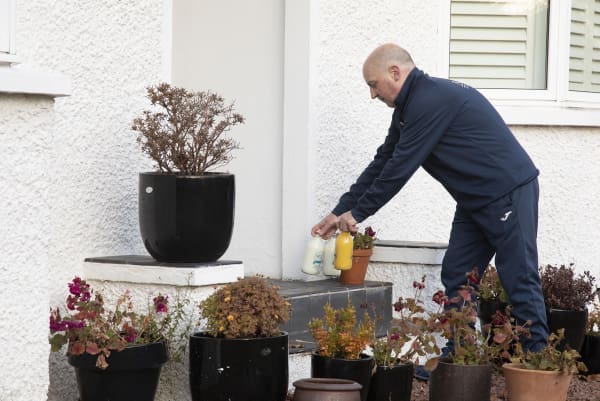 Coronavirus: The rise of milk delivery
When the coronavirus pandemic hit in March of 2020, supermarket delivery slots were few and far between. The struggle of not being able to get the essentials in, made people to return to the traditional method. For some this was the new way of shopping. A spike in the demand for a milk delivery meant that more and more people were able to avoid the shops and be safe at home, whilst still receiving the essentials.
People were so grateful that a part of normal life was continuing. They were so grateful that our milkmen and women would often receive gifts and thank you notes from customers, to show their appreciation. Our milk lady, Davina, who has been delivering milk for over 40 years, received many of these and was touched greatly by them. "You would get drawings and thank-you's for being a key worker. Kids would be writing on the paths with chalk saying thank you for their milk delivery. It was brilliant and really touching."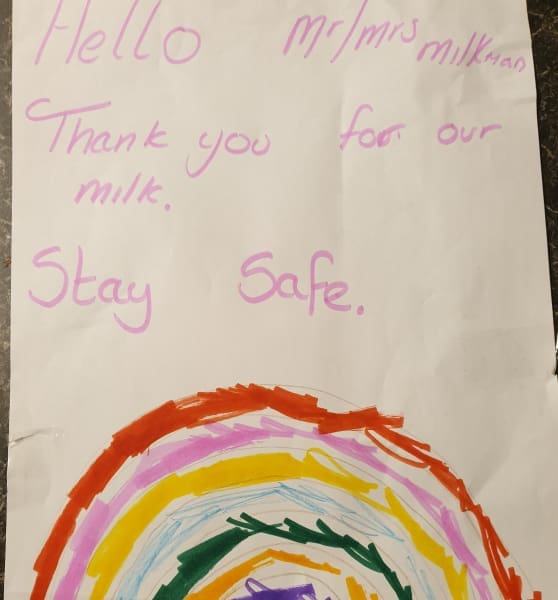 McQueens Dairies
At McQueens Dairies, we are dedicated to ensuring your milk delivery is on your doorstep by 7am. Our team of milkmen and women worked tirelessly this year to ensure our customers, current and new have received their milk, juice and eggs each morning, before the pandemic, during and will continue to do so after. The movement towards having your milk delivered in glass bottles is one that we hope continues to grow and helps the environment for years to come.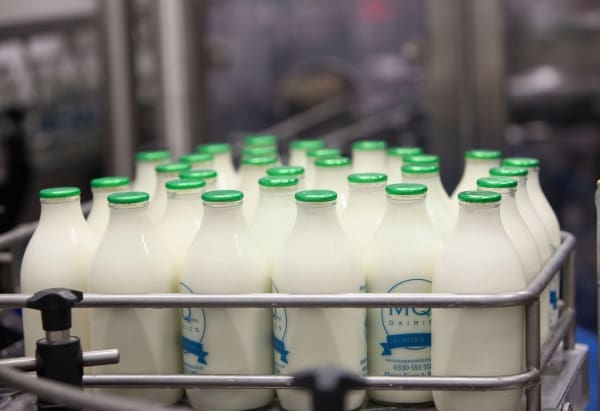 Join thousands of happy McQueens Dairies customers and enjoy fresh daily milk delivered straight to your doorstep before 7am with our local milkmen.  Add on alternative milk, yoghurt, juice or just choose a milk and eggs delivery. Place your order in our online shop.