The Scottish Government has announced that from the 1st of August 2021, they will add non dairy milk alternatives to the nursery milk scheme. The scheme allows under 5's who attend approved day care facilities to receive 1/3 pint of milk each day.
The Vegan Society has been campaigning for several years with its Play Fair with Plant Milk campaign. The campaign came about because The Vegan Society realised there were no alternative milk products offered by the NMRU Scheme. This meant that children who were vegan or were unable to drink traditional cow's fresh milk were missing out. The Vegan Society reached out to the Scottish Government to approach the idea to them. The Scottish Government agreed to include plant-based milk alternatives on a government-funded nursery and early learning milk scheme.
After discussions between The Vegan Society and The Scottish Government, they were able to gain approval from Food Standard Scotland. Funding will be available for childcare providers to provide unsweetened soya milk to children who are unable to consume fresh milk. This will be made available from the 1st of August 2021.
Sabrina Ahmed, campaigns & policy manager at The Vegan Society said, "This sets a great precedent for other public health schemes to follow suit."
Heather Russell, dietitian at The Vegan Society said, "This scheme recognises the nutritional need for suitable alternatives to fresh milk. This will help ensure that vegan children receive the best care, including balanced food."
Soya Milk
It is thought that Soya milk will be the milk alternative of choice as it's seen as the best milk alternative for toddlers. This is because of the similarities of taste of cow's fresh milk. It is considered to be the best milk alternative in terms of nutrients which is why The Vegan Society decided to put forward the idea of offering Soya milk to children.
McQueens Dairies NMRU Scheme
McQueens Dairies is an agent for the Nursery Milk Scheme. We deliver the free fresh milk to your doorstep before 7am by your local milkman/woman.
You are eligible to sign up to the Nursery Milk Scheme if you are a registered childminder, registered day care provider, a local authority which provides day care or those providing day care in a nursery or crèche for children (under 5 years) of management and staff of certain establishments (eg children's homes, voluntary or community homes, NHS hospitals). Those that are exempt from registration should contact the NMRU to confirm their eligibility before registering with the scheme.
Children under 5 who attend the setting for two or more hours are entitled to 1/3 pint of milk each day.
In order to claim your free fresh milk you are required to register with the NMRU Nursery Milk website as well as registering with us. This is so as we can set up your milk deliveries on your chosen days. There are just a few simple steps to sign up for the free fresh milk as part of the NMRU scheme.
Our team at McQueens Dairies can help you every step of your application. You can also find our most common FAQ'S to assist you with your application.
There are now a vast range of milk alternatives that provide the same or similar benefits to cow's fresh milk. There are debates over which is the best milk alternative for tea and coffee and which are the most high in protein milk alternatives. Generally milk alternatives have been made to contain the right amount of nutrients and proteins to cow's fresh milk. A lot of milk alternatives are made sustainably these days and more companies are now bottling this in glass bottles. Oato are a company who make oat milk in glass bottles which customer say is the most sustainable milk alternative. Overall, non dairy milks are a great substitute for your coffee, cereal or to drink on their own and many enjoy having the option of dairy and non dairy.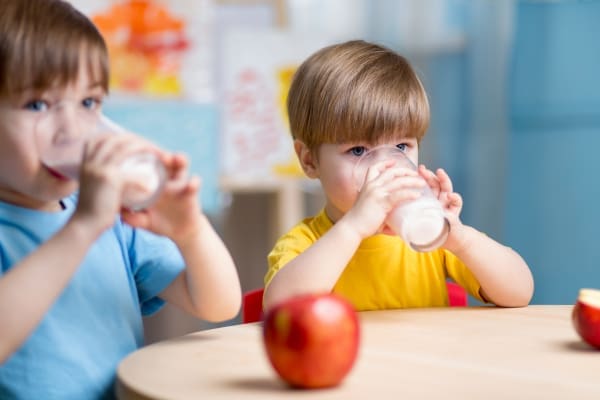 Join thousands of customers and enjoy fresh milk, juice and eggs delivered straight to your doorstep before 7am.