Almond Milk vs Oat Milk
3rd April 2021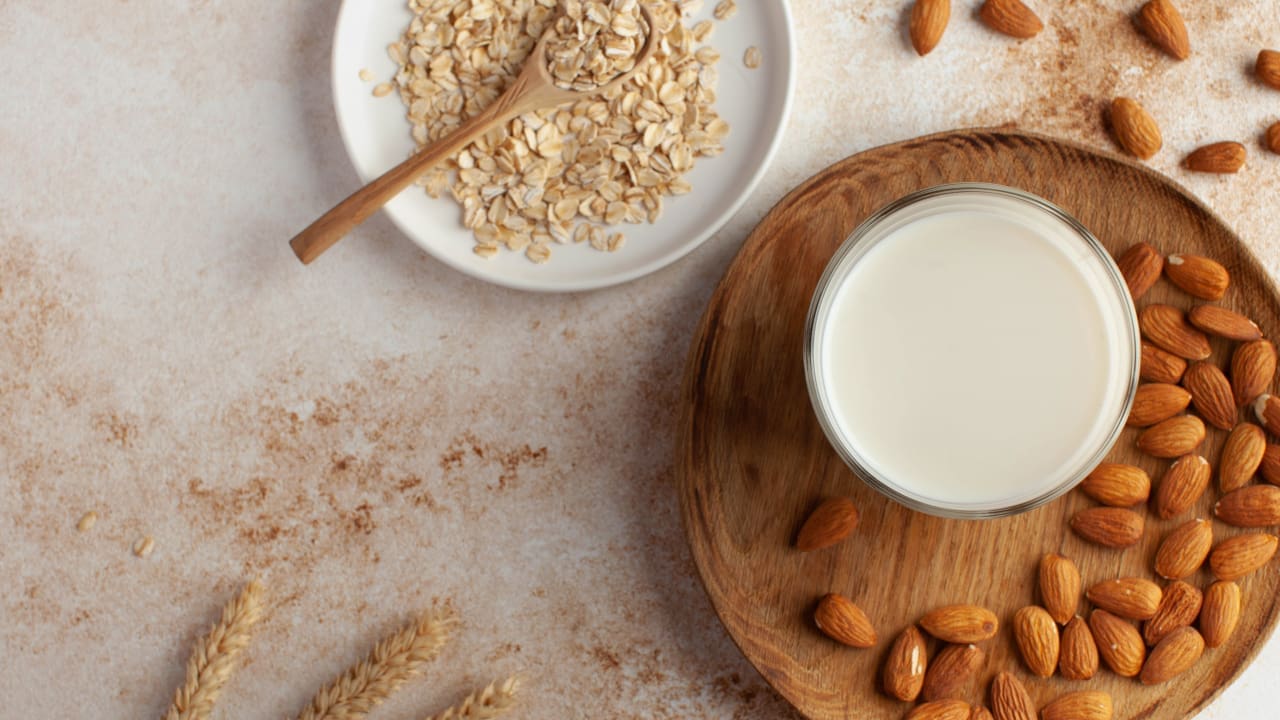 The increase in the variations of alternative milk now of offer is vast. It can sometimes to be difficult to know where to start and what dairy alternative you should be drinking. Almond and oat milk are two of the most popular milk alternatives on the market. But what is the difference, apart from the main ingredients, and what are the benefits of drinking them? Is one better than the other?
Almond Milk
Almond milk is a non dairy milk alternative made from almonds. It has a nutty flavour and a creamy consistency and can be used as a replacement for cow's milk.  It's a plant-based milk alternative that is suitable for vegans and contains no dairy or animal ingredients. It comes in different types such as sweetened and unsweetened. Unsweetened vegan milk is thought to be healthier for you and can be used in direct replacement for cow's milk.
Some benefits of almond milk include:
Oat Milk
Naturally Lactose Free
100% plant-based
Vegetarian
Naturally low in fat and saturated fat
Low in sugars
A source of calcium. Contains vitamins B2, B12 and D.
Source of calcium and vitamins D and B12. Vitamin B12 contributes to the reduction of tiredness and fatigue.
Oat milk is a great non-dairy milk alternative. It is made from natural oats that have been blended with water. Oat milk can be used for tea's, coffee's and cereals. It is also heat stable so it is good to cook with and makes an excellent milk alternative for your latte. Many people agree that oat milk is the most sustainable milk alternative due to the glass bottles that some companies provide it in.
Some benefits of Oat Milk include:
Naturally Lactose Free
100% plant-based
Vegetarian
Naturally low in fat and saturated fat
Without added sugars or sweeteners.
Rich in Fibre
A source of calcium. Contains vitamins B2, B12 and D.
Which is the best milk alternative?
There is no one true winner as both almond and oat milk offer different benefits. Oat milk is also considered to be higher in calories than the almond drink. It contains 120 calories in one serving compared to only 60 calories in a serving of almond milk, therefore it may be the better option if you're trying to reduce your calories.
If you are looking to incorporate a plant based milk into your healthy diet, almond milk will be the best in terms of health. Almond milk is also considered the best milk alternative for tea and coffee as the flavour blends well. Oat milk has the highest carbohydrate content among the plant-based alternatives. Almond milk can have as little as 1g carbohydrates in one serving if it's unsweetened so the best option is to go with almond milk.
High Protein Milk Alternative
If you are looking for a high protein milk alternative then go for oat milk. It contains more protein than almond milk. One glass contains 2–3 grams of protein, compared to only 1g protein in almond milk. The fat content in the oat drink is nearly double of that in almond milk: 5 grams of fat in oat milk vs. 2.5 grams of fat in almond milk so almond milk is better if you're interested in the fat content. Many say that oat is the best milk alternative for coffee as it froths up nicely and enhances the taste of it.
The verdict
Overall, the benefits of both of these plant based milks are vast. Depending on what you are looking in a plant based milk, there is a variety of options to suit everyone. Whichever alternative milk products you decide to go for, we're sure you will love it.
McQueens Dairies offers both almond milk and oat milk to be delivered weekly to your doorstep. We have recently introduced it in glass reusable bottles which are great for the environment. You can choose from 1 or 2 deliveries per week and amend your order online at anytime.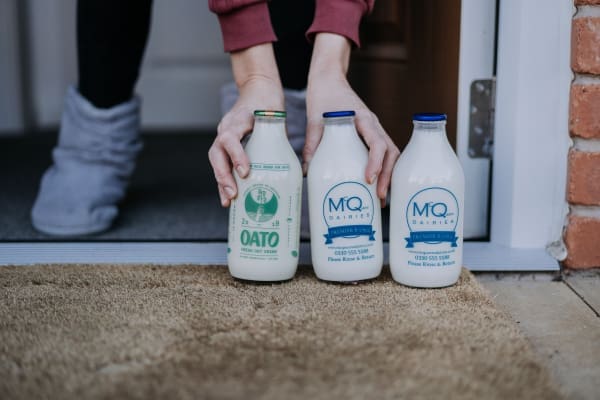 Join thousands of customers and enjoy fresh milk, juice and eggs delivered straight to your doorstep before 7am.