When life gets busy, we often look for convenience and quick & easy meals to see us through. Peanut butter overnight oats are the perfect quick breakfast solution. With only 5 ingredients required and only 5 minutes needed to prepare it.
What are overnight oats?
Overnight oats are a quick and easy breakfast meal or snack which is made by soaking oats overnight. They are simple to prepare (no cooking or ovens needed!) and great for when you need to plan your breakfast or snack ahead of time, especially for those with hectic mornings. Whilst this recipe is for peanut overnight oats, it can be easily amended to fit your preferred taste. We also think this peanut butter overnight oats recipe would make the perfect meal to enjoy after a session at the gym.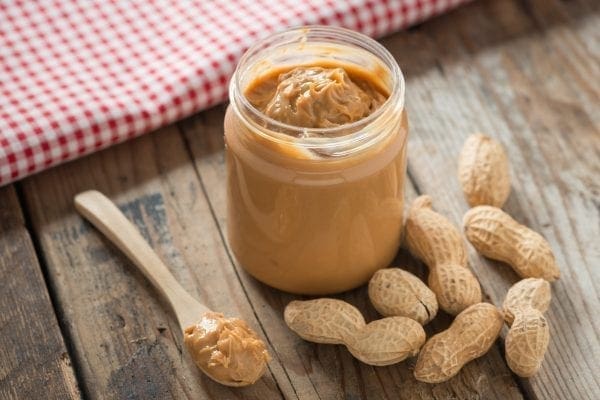 Which types of oats should I be using?
The type of oats you use are important too. Using quick oats will cause them to become far to soggy when soaked in the milk. Using porridge oats will make for a different texture to the rolled oat which is thick in consistency. This is fine if you are happy with a thicker consistency however many people do prefer to use rolled oats. Rolled oats give a smoother texture and is generally the preferred type of oat when it comes to making your peanut butter overnight oats.
As previously mentioned, you do not have to add peanut butter to your overnight oats. You can adjust the ingredient to fit your own taste. Some people substitute the peanut butter for berries, yogurt or even chocolate spread if you want a sweeter version. Yogurt is a great alternative to add as it makes for a light and refreshing breakfast snack for your oats. At McQueens Dairies, we offer yoghurt to be delivered with your milk deliveries. Your local milkman will drop it off to your doorstep before 7am to ensure you have what you need to make your overnight oats.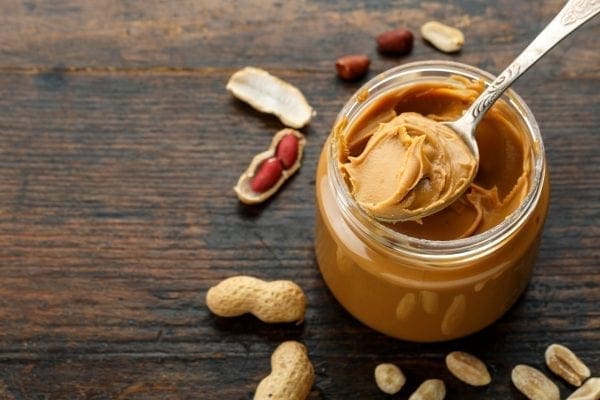 What do overnight oats taste like? Do they taste good?
If you like porridge or oat milk then we are sure that you will like overnight oats. The texture is what can put some people off, however once you have gotten used to the texture, you will start to enjoy them. The great thing about overnight oats is that there is no one strict recipe you have to follow. If you are allergic to nuts, add yogurt instead of the peanut butter, if you are unable to drink dairy milk you can simply use any milk alternative such as almond, coconut or oat milk.
Can you eat heat the overnight oats and eat warm?
Your peanut butter overnight oats can be eaten hot or cold. To heat, microwave for around 45-60 seconds or transfer to a saucepan and heat over medium heat until warmed through. Taking your peanut butter overnight oats to work means you save time and will save you money, stopping you from going to the shops for lunch.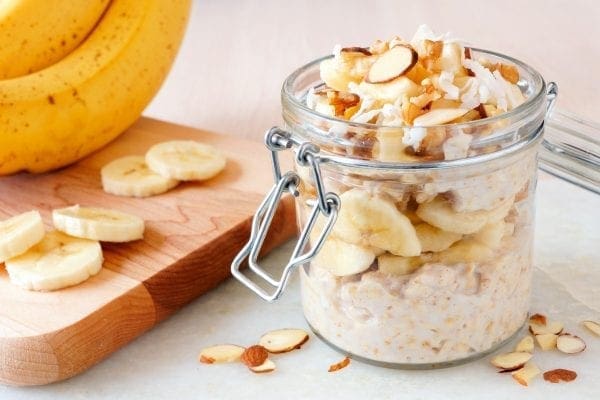 Can you use steel cut oats for this recipe?
Many recipes on the internet debate the success of using steel cut oats to make overnight oats. They will take longer, require more liquid, and probably won't be quite as soft. They may also be more difficult to digest. We would recommend using rolled oats for this recipe.
How long do the peanut butter overnight oats last for?
If kept refrigerated your oats should last around 5 days. This is great for batch making ahead of time so you can quickly grab them for breakfast when rushing out the door or as a quick pre made snack.
Below is our recipe for peanut butter overnight oats. As already stated, you can switch out some ingredients for your own and try a variety of McQueens milk or other alternative milk products.
Peanut Butter Overnight Oats Recipe
Ingredients:
125ml McQueens Dairies milk (or any other milk alternative of your choice)
2 tbsp Peanut Butter
1 tbsp Maple Syrup
45 grams Rolled Oats
Sliced banana, strawberries or raspberries (Optional)
Granola (Optional)
Instructions:
For the first step, add the milk, peanut butter, and maple syrup to a bowl (or other sweetener) and stir with a spoon to combine. (The peanut butter doesn't need to be completely mixed with the milk but make sure it is slightly combined)
Then using a spoon, press down firmly to ensure all the oats are fully submerged in the milk.
Cover securely with a lid or seal and set in the refrigerator overnight
The following day, remove from the fridge and add your fresh fruit (optional) and enjoy.
You can play around with the recipe/quantity of ingredients to find what works for you. You can add a little vanilla to your oats and the recipe is completely open to your interpretation. The refrigeration part is key. Your oats need to be placed in the fridge for at least 6 hours and is usually best done at night time (hence the name, overnight oats).
Peanut butter overnight oats are a quick and easy breakfast meal or snack that can help you focus on doing things in the morning without having to worry about breakfast time. McQueens Dairies help take the stress out of mornings too. With delivery on your doorstep by the time you wake up, you have one less thing to worry about.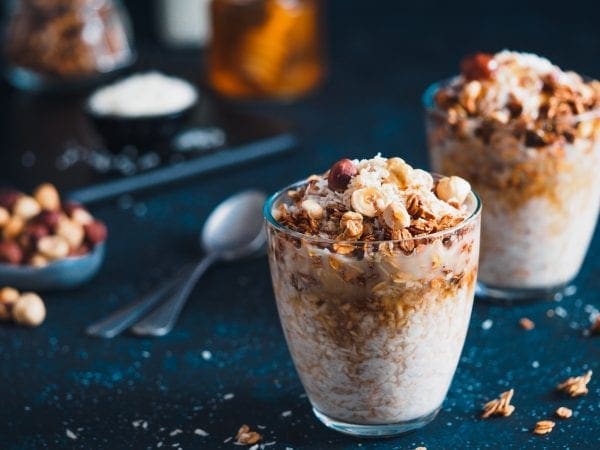 Join thousands of happy McQueens Dairies customers and enjoy fresh daily milk delivered straight to your doorstep before 7am with our local milkmen. Add on alternative milk, yoghurt, juice or just choose a milk and eggs delivery. Place your order in our online shop.