Easy Pancake Recipe for Shrove Tuesday
Make the perfect pancakes this Shrove Tuesday with our Easy Pancake Recipe. This light and fluffy tasty snack is sure to be a winner at the breakfast table.
Easy Pancake Recipe
Ingredients
100

Grams

Plain flour

2

Large

McQueens Dairies Free Range Eggs

300

ml

McQueens Dairies Milk

1

tbsp

Sunflower or Vegetable Oil
Instructions
Set aside for 30 mins to rest if you have time, or start cooking straight away.

Set a medium frying pan over a medium heat and carefully wipe it with some oiled kitchen paper.

When hot, cook your pancakes for 1 min on each side until golden, keeping them warm in a low oven as you go.

Serve with butter, syrup or your favourite filling….and enjoy!
Did you know, that pancakes were traditionally eaten on Shrove Tuesday? This was a day of feasting and partying before the beginning of Lent. Pancakes were a good way to use up stores of about-to-be-forbidden perishables like eggs, milk, and butter.
There is no doubt that pancakes are a great breakfast treat or snack. You can top it with fresh fruit for more of a breakfast option. Or drizzle in chocolate for a treat. You can also add some fruit such as blueberries into your pancake batter for an alternative taste. The BBC's recipe for fluffy pancakes which could be applied to the above recipe says:
"For extra-fluffy pancakes substitute self-raising flour for plain flour and still use the baking powder. Serve the pancakes with fresh strawberries and good vanilla ice cream. Use half buckwheat flour and half plain flour and serve with maple syrup and bacon. You can also add one teaspoon of ground cinnamon to the buckwheat batter and serve with caramelised apple slices and thick double cream"
We would love to see your creations! Share your pancakes with us by using the #McQueensMakes hashtag!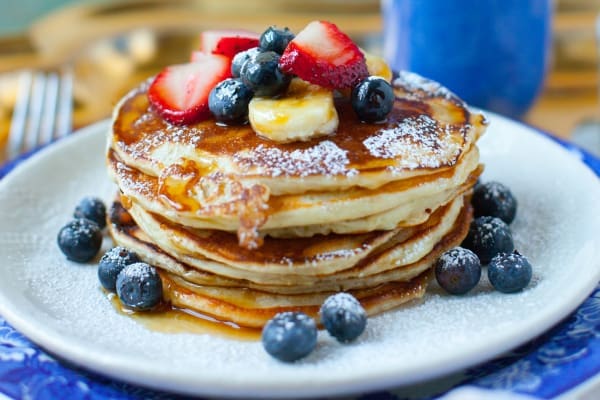 Join thousands of customers and enjoy fresh milk, juice and eggs delivered straight to their doorsteps before 7 am.