French toast is a classic brunch favourite. In fact, it's a favourite for any time of the day. It's simple and quick to make and tastes delicious too. Whether you like it with maple syrup, bacon or some fruit, french toast is a meal that is sure to set you up for the day. However, how about adding a little bit of spice to your french toast? Cinnamon french toast is the perfect combination of sweet and savory whilst maintaining the classic french toast fluffiness. It is great for those who don't like the 'eggy' taste as the cinnamon takes that away. Follow our recipe below on how to make light and fluffy cinnamon french toast.
Cinnamon French Toast
Ingredients
1

Large

McQueens Dairies free range egg

2

Slices of bread

2

tbsp

McQueens Dairies milk

32

g

Granulated sugar

1

tsp

Cinnamon

2

tbsp

Unsalted butter
Instructions
In a bowl, whisk together the 2 McQueens Dairies eggs and milk.

Grab a plate and add the cinnamon and granulated sugar and gently mix together.

Heat the butter up in a large frying pan, waiting until it is bubbling.

Dip the bread into the egg/milk mixture and place into the frying pan. Fry for 2-3 minutes on each side until soft and golden brown.

Once the bread has been removed from the pan, quickly coat it in the plate of cinnamon and granulated sugar, repeat for both slices of the bread.

Serve immediately and enjoy.
With this cinnamon french toast recipe, you can top with anything you wish. You can go for the healthy option and choose fruit, such as blueberries, strawberries or a banana. Alternatively, if you are looking for something sweeter, you could add syrup or chocolate spread. If you prefer your toast a little crispier, simply leave the bread in the frying pan for slightly longer until it looks how you like it.
So now you know what to make with your McQueens Dairies eggs and milk. Our large free range eggs make for the perfect french toast amongst many other delicious breakfasts. If you would prefer to make traditional french toast, simply follow our recipe here.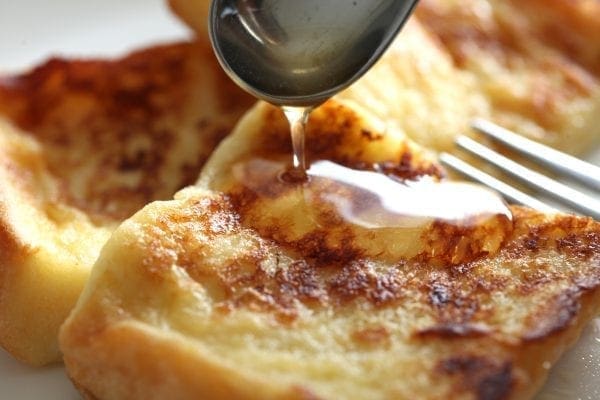 Join thousands of happy McQueens Dairies customers and enjoy fresh daily milk delivered straight to your doorstep before 7am with our local milkmen. Add on alternative milk, yoghurt, juice or just choose a milk and eggs delivery. Place your order in our online shop.