This stir-fried vegetable omelette dish is a good way of adding extra vegetables to your diet. It provides at least two of the recommended five a day. The free range eggs supply protein to help re-build muscles after exercise while the vegetables add fibre, vitamins A and C, and potassium.
Stir-fried Vegetable Omelette
Ingredients
10

ml

Vegetable Oil

1

Onion, sliced

1

Garlic clove, crushed

5

ml

chopped root ginger

1

Small carrot, cut into strips

1/2

Red pepper, sliced

60

g

Mange-tout, trimmed and halved

4

Button mushrooms, sliced

15

ml

Soy sauce

2

Large

McQueens Dairies Free Range Eggs

Salt and Pepper
Instructions
For the Stir Fry Vegetables:
Heat the oil in a wok, and then add the onion, garlic and ginger. Cook for around two minutes and add the carrot, mange-tout and mushrooms. Stir-fry for 3 – 4 minutes until softened. Stir in the soy sauce and set aside.
For the Omelette:
Beat your McQueens Dairies free range eggs in a bowl and add some salt and pepper. Heat the oil in a non-stick frying pan, add the egg mixture and cook for around 2 – 3 minutes over a medium heat until the egg is almost set all the way through.

Add the stir-fried vegetables to one half of the omelette and fold the other half over the top. Move onto a plate and serve with a side of your choice.
You can add some cooked chicken to your omelette if you are looking to add meat to this recipe.
We hope you enjoy making this stir-fried vegetable omelette. Be sure tag us on social media using the hashtag #mcqueensdairies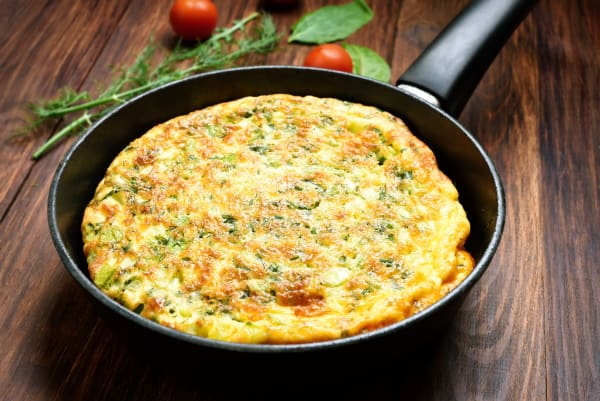 Join thousands of customers and enjoy fresh milk, juice and eggs delivered straight to your doorstep before 7am.